reviews
Cooler Master Cosmos II Ultra Tower Case Review
Author: Dennis Garcia

Published: Monday, January 02, 2012

Discuss in the Forums
Case Layout and Features
The Cooler Master Cosmos II Ultra Tower visually looks very similar to the original Cosmos in overall styling with the most notable of features being the large support bars found at the top and bottom of the case.
Both sides of the case are completely clean and constructed of a hybrid aluminum panel with strategic venting located near the bottom. The Cosmos II also features hinged doors that allow access to both sides of the case and are easily removed by lifting them off the hinge.

We mentioned that each panel is a hybrid aluminum construction which sounds fancy but basically means the outer skin is made from anodized aluminum while the inner panel is plastic. Both the hinge and locking pins are made from steel and come with a super slick black chrome finish to complete the look.
You may notice a few tabs in the plastic, these are additional fan positions that become accessible after you have removed the inner door skin. Simply unscrew the panel, install the fans using standard fan screws and replace the panel.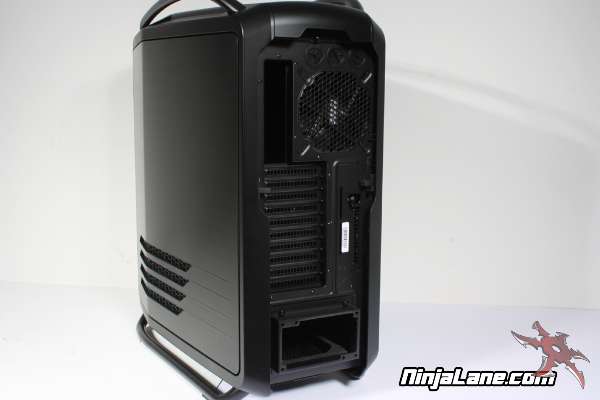 The back of the Cosmos II is all business and features a single 140mm exhaust fan with three portholes across the top for wires and watercooling. There are ten expansion slots on this case that will fully support 3-way and 4-way graphic card setups, with room to spare, depending on your GPU cooling setups. To the right of the expansion slot you will find the +1. You'd think with ten expansion slots a +1 might go unused but this location works great for USB breakout panels or the patented Cooler Master cable locking system.