reviews
CM Storm Trigger Gaming Keyboard Review
Author: Darren McCain

Published: Tuesday, May 01, 2012

Discuss in the Forums
Keyboard Usability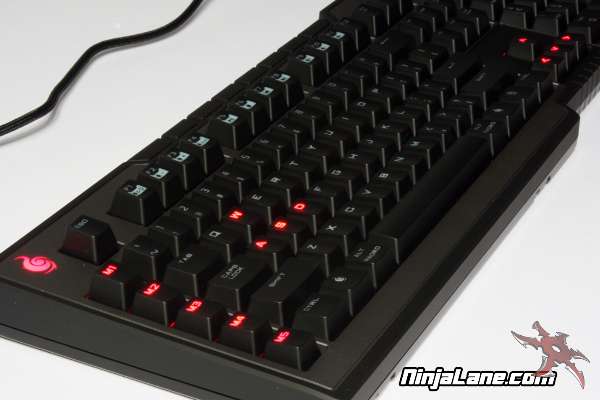 Lighting has become so standardized in aftermarket keyboards it's refreshing to see something new. The Trigger offers four modes of LED backlighting; Off, Low, High and a gaming specific mode shown here. Only the directional keys, macro keys and your W,A,S,D are lit. I am not sure how much this affects actual performance but it looks mean and will really draw the looks in a dark LAN.
Another way the Trigger stands out is the inclusion of a two port USB 2.0 hub. The hub functions as a low power hub out of the box but can be switched to a powered hub using a standard DC 5V power cable. Sadly the cable is sold separately but any correctly powered cable will do the job saving you from a potentially spendy add-on. As a nice bonus, the Trigger will switch to 5 brightness modes when the Dc adaptor is plugged in.

Cooler Master has included a micro USB cable to connect the Trigger with your PC. I tend to prefer the solid connections but with the long lifespan you expect from a keyboard of this caliber it's nice to know I can replace the cable at will. The included cable is gold tipped and wrapped with an attractive weave.