reviews
EVGA Z77 FTW Motherboard Review
Author: Dennis Garcia

Published: Monday, June 25, 2012

Discuss in the Forums
Multi GPU Index
The Ninjalane Multi-GPU index is a portable set of data we can use to determine the multi-gpu potential of any motherboard. A higher index number indicates a favorable condition for multiple graphics cards while a lower number indicates a hindrance in one of our leading indicators. Since the Index is not dependent on system architecture it can be applied to any motherboard regardless of processor or chipset generations.
Multi-GPU Scorecard
Index: 3.375
Optimized: 3x
Max Support: 5x

Technologies Supported
NVidia SLI
AMD Crossfire
Lucid Virtu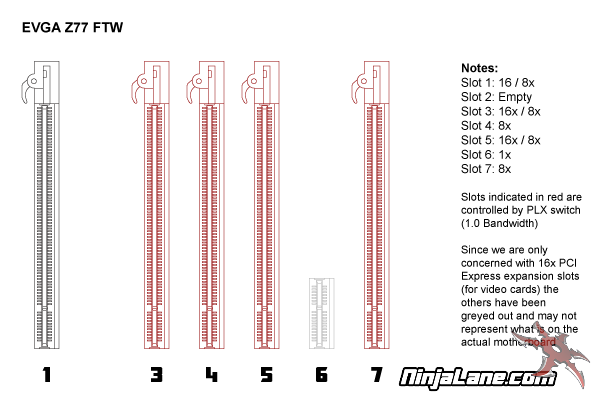 As indicated by the PCI Express layout chart there are a total of five 16x PCI Express slots on this motherboard with all five using bandwidth earmarked for video cards. Slot one is your primary video card slot and will run at a full 16x when only a single card is installed. Slots three, four, five and seven are all powered by the onboard PLX PEX 8747 5-port 48-lane PCI Express switch. The primary graphic slots will be three and five which in turn share bandwidth with their nearest downstairs neighbor.

For best video performance you will want to populate slots one and three with video cards. For proper triple card configurations, using either NVidia SLI or AMD Crossfire, you'll populate slots one, three and five. This configuration will give you ample room for dual slot coolers and still remain within the confines of the standard ATX form factor.

During our tested we successfully loaded windows with five HD4850 video cards properly installed. While the EVGA Z77 FTW is optimized for triple card configurations you do have the ability to construct a five card super computer when using single slot coolers. Expect 8x lanes to be available to each card. Now, getting all of that bandwidth out of the system is a different story since the lower four cards are basically using 8x lanes of bandwidth direct from the CPU.

One thing we discovered during our testing is what to enable the lower PCI Express slots we had to plug in one of the onboard PCI Express power connectors. After doing so all of the red LED lights were activated and enabled the system to discover the additional video cards. This might be a requirement of the PLX chip or just EVGA enforcing good multi card practice but, it wasn't documented and is what we will take issue with.