reviews
Gigabyte G1 Killer Sniper 3 Gaming Motherboard Review
Author: Dennis Garcia

Published: Thursday, August 23, 2012

Discuss in the Forums
Included Goodies
Gigabyte has always done a good job at including a decent amount of parts to get you up and running. The G1 Killer Sniper 3 comes with everything you see below.

The included documentation is extremely good and consists of a 128 page manual, wireless controller manual and quick start guide. You also get a G1-Killer sticker kit and large fold out poster.

ESATA is accomplished thru the addition of an expansion panel that wires into the internal headers and then routes out the back of your chassis. You get six high speed SATA cables and an extremely nice G1-Killer branded I/O panel cover.

If your case doesn't have any front mounted USB 3.0 ports you can use the included front access panel. The panel is a true USB 3.0 device that plugs into the onboard header near the 24pin power plug.
The final included item is four bridge connections for Multi GPU configurations. Three of the bridges are for SLI supporting up to 4-way configurations while the remaining ribbon connector is for AMD Crossfire. Given the distance between the two primary video card slots you'll need a longer Crossfire cable than what normally comes with your video cards.
GC-WB300D Wireless Included
One of the biggest challenges when designing a motherboard is trying to decide what to include. Should that feature be embedded onboard? Or does it seem better to be included as an addon??. Since we already have two good wired network connections so why would you need anything more?

The answer is simple, flexibility. There are two types of wireless devices you can get with a Gigabyte motherboards. The first is single band 150Mbps wireless card supporting 802.11 b/g/n and Bluetooth 4.0 while the second, pictured here, is a dual band 300Mbps wireless card supporting 802.11 a/b/g/n and Bluetooth 4.0. Both cards are PCI Express and come with dual antennas for maximum coverage and data transmission.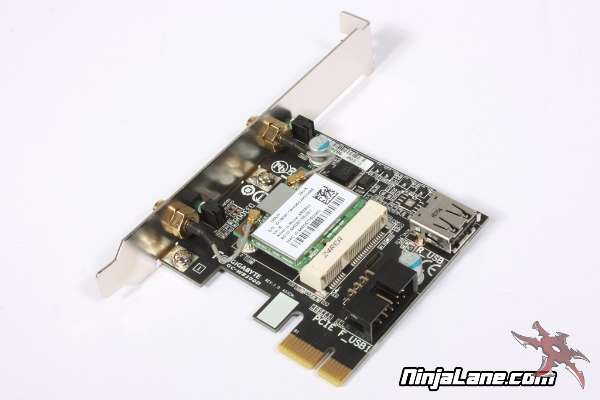 Having this card as an addon device is a great option for any gamer as it gives them the option to use it or to save the resources and leave it in the box. Of course installing the card will limit your Multi GPU options and does reduce network throughput but for some users the wireless option is the only one they have.