reviews
Asus Sabertooth P67 Motherboard Review
Author: Dennis Garcia

Published: Friday, April 06, 2012

Discuss in the Forums
Thermal Armor
By far one of the most unique features of the Sabertooth isn't so much the military class components but the Thermal Armor used to ensure proper motherboard cooling. The armor works as a ducting system to direct air over the various components either thru a forced induction using a fan or by natural convection as cooler air attempts to occupy warmer sections of the motherboard.

At first we were skeptical of the new cooling system thinking there was no way a fancy heat shield could keep the motherboard cool but as you can imagine Asus does have a way to measure the success.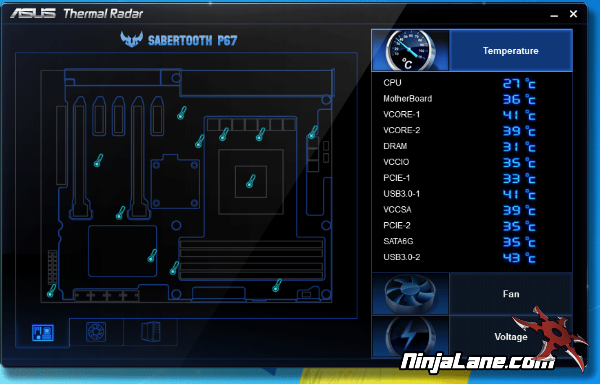 Thermal Radar is the concatenation of 12 temperature sensors scattered around the motherboard allowing you to monitor each zone in real time. During our benchmark session we monitored this screen and could watch the CPU and PWM temps rise as we overclocked and fluctuate under the different loading conditions. While these temps would change on a regular basis the rest of the sensors would remain relatively stable.

We did remove the Thermal Armor just to see what was under the covers, and well, it looks like a motherboard. There are no heatpipes connecting PWM to the chipset cooler and for the most part the board looks typical and doesn't resemble anything in the current Asus inventory.

What good is a thermal ducting system if you can't force a little air thru there? There is a panel located at the center of the motherboard, if you remove the four screws you will find the fifth fan header and a perfect location for a low profile 50mm fan. We didn't have a low profile fan but the taller ones work when used on the test bench.

Installing a fan here helps to keep temperatures under control by forcing air thru the Thermal Armor to the various components. This isn't a requirement but comes in handy for those who use tower coolers over the OEM designs.