reviews
Nvidia GeForce GTX 680 Video Card Preview
Author: Dennis Garcia

Published: Thursday, March 22, 2012

Discuss in the Forums
GTX 680 Technologies
GTX 680 uses the new Kepler architecture that is roughly based on an extended Fermi design with some new technologies thrown in. The first of these is a next generation Streaming Multiprocessor (SMX) that provides more performance over the Fermi architecture and draws significantly less power.

Each SMX core features 192 CUDA cores which is a 6x increase over Fermi.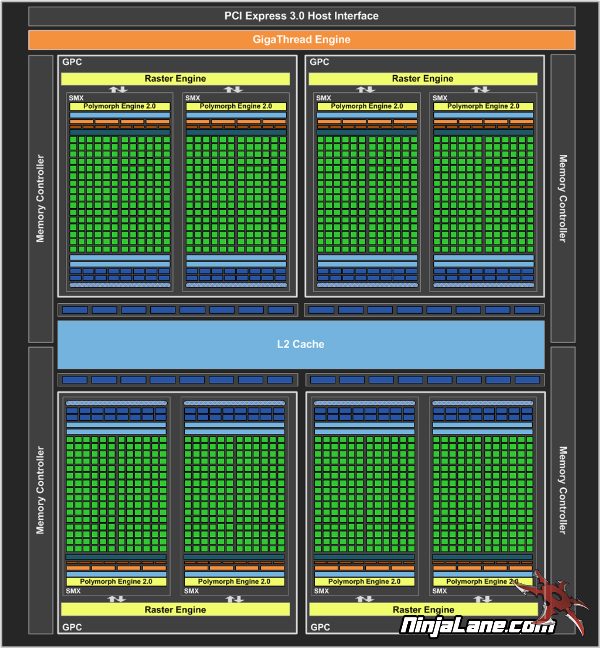 There are eight of these cores in the Kepler design giving us a total of 1536 CUDA cores. The rest of the GPU map looks strikingly similar to the Fermi design with a shared L2 cache located in the middle.
New Technologies
Along with the new Kepler core the GTX 680 comes with a laundry list of new technologies and some enhancements to the existing ones. We already talked about the faster SMX core design however what wasn't mentioned is that not only is the SMX faster but it does so while providing a 2x performance/watt gain over the previous generation.

This drop in power is why the card only requires a 550w PSU, has 2x 6pin power connectors, and features a TDP of only 195w. In contrast the GTX 580 had a TDP of 244w and required a 600w+ PSU.
GPU Boost
GPU Boost is best described as a turbo boost option for the GPU. Traditionally GPUs came with fixed clocks for both 2D and 3D operation and were determined based on maximum loads that stayed below a predefined power target. Often times these limits were determined using a synthetic benchmark and not a real world situation, such as a friendly game of Battlefield 3. The GPU Boost technology allows the core frequency to "average out" under load so that when TDP is not reached it can increase the core frequency and provide better performance.

Basically this equates to smoother framerates in games that helps to level out the low spots which is exactly what we try to accomplish through basic overclocking. The downside to GPU Boost technology is that it will rarely work in competition benchmarks such as Heaven and 3DMark.