reviews
Nvidia GeForce GTX 680 Video Card Preview
Author: Dennis Garcia

Published: Thursday, March 22, 2012

Discuss in the Forums
PhysX Boost Quiet Cooling and Conclusion
PhysX Performance Boost
In
a previous article
we explored basic PhysX performance and how the performance changed between running a dedicated card for PhysX and having your main GPU do the calculations. With older Nvidia cards we discovered that a dedicated card was the way to go, assuming you had hardware to support that. The GTX 680 and its new SMX processing engine takes PhysX processing to new levels and may finally do away with dedicated PhysX processors altogether.
Cooling and the Quiet Gaming PC
GTX 580 re-introduced vapor chamber cooling as a way to battle excess heat and make your gaming PC a little quieter. As we know the GPU is typically the loudest device in your PC so every dBA drop helps to lower the noise ceiling.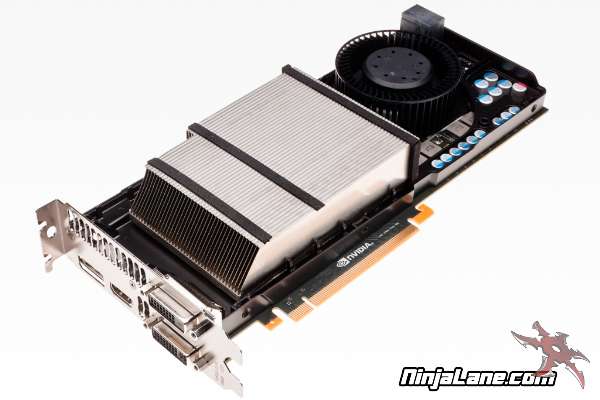 GTX 680 is designed to deliver a quiet gaming experience through the use of acoustic damping on the fan and an embedded triple heatpipe cooler with a custom stack fin heatsink. Heatsink designs like this are extremely common in 1U server implementations and it would seem the technology has now been adapted to cool GPUs.
Conclusion
Nvidia claims that the GTX 680 is the fastest and most efficient GPU ever built and evidence of this can be seen in almost every aspect of the video card. In terms of efficiency we can contrast the older GTX 580 and can see a 50w drop in TDP giving the GTX 680 a clear advantage in power consumption. Combine that with the performance enhancements of the Kepler core and you have a GPU we can talk about.

We mentioned that the Kepler architecture was based on Fermi with some obvious enhancements. The GTX 680 ships with 1536 CUDA cores across 8 PolyMorph Engines giving the GPU 6x the processing power of Fermi. The memory subsystem is a 256-bit bus divided across four 64-bit memory controllers with a total system memory of 2GB. It will be up to the board partners to determine what memory they will use and if they will stick to the 2GB standard or double the capacity.
Default clock speeds come in at 1006Mhz with a typical Boost clock of 1058Mhz given an average game load. Nvidia claims that the Boost clock can go higher under certain situations and is an integral part of the GPU. Boost clock is not something you can manually limit and will scale with the base clock under overclocking conditions assuming you don't reach the OCP.

As of this article the retail price of a reference GTX 680 will be $499 US with price premiums for special and OC editions from the various board partners.
Questions or Comments?
If you have Questions or Comments about this article, please stop by
our forums
and let your voice be heard.