After careful consideration I have decided to transfer all hardware review activities to a new domain. I purchased Hardwareasylum.com in 2012 and have been working hard to build a new and improved Ninjalane on that domain. If you are reading this you have reached one of the archived articles, news, projects and/or reviews that were left behind during the site migration.
Please update your bookmarks and be sure to visit the new and improved Ninjalane at Hardwareasylum.com
CES 2010 Consumer Electronics Show - Day 3
Author:

Dennis Garcia
Published:
Saturday, January 16, 2010

Introduction
Day 3 was really nothing more than guided leisure day where we walk around the show floor looking for cool stuff that we would have otherwise missed. This includes checking out the exhibits in the North and Central halls where the bulks of the Car Audio and Home Electronics is located.

A huge theme of CES this year was the advent of 3D in television. By now most of us know that movies, sitcoms, and sporting events are all recorded in HD and the next progression in this is recording stuff in stereoscopic vision as well. For this to work your monitor needs to have 3D compatibility and you still need to wear the glasses to get the full effect, just like in the movie theater.
Flat panel technology is growing at an alarming rate, so much in fact they have TVs that look like panes of glass. Seems someone has been taking too much from Minority Report and Ironman.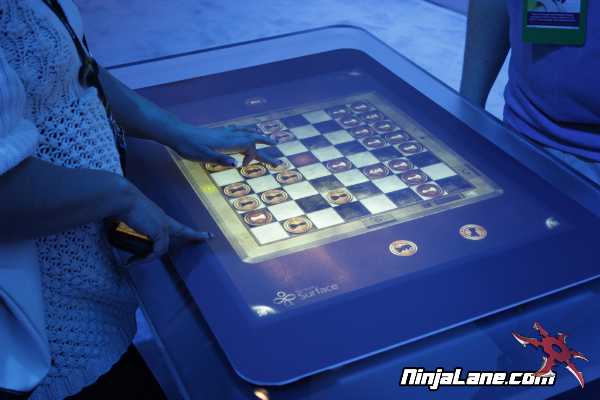 Microsoft also had live demonstrations of Surface for anyone to use. Here we have 2 people playing chess.