News
Zotac shows off the ZT-Z77 Crown-U1D motherboard @ VR-Zone
Published:
Tuesday, February 05, 2013

| Posted By:

Dennis
I saw a sneak of this motherboard on Facebook today and started looking around for more information. It would seem this Z77 from Zotac is clearly designed for the uber enthusiast who wants the best power delivery and features. However its missing some, well, features.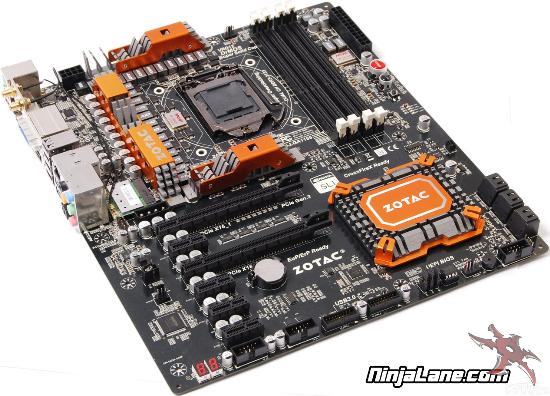 For instance there is no PCI Express bridge chip so you'll only be able to do 2-way SLI or Crossfire. The spacing between the PCI Express slots is only two giving you very little space between the cards to keep them cool. Given that this is a full ATX motherboard there is PLENTY of room.
The board does feature onboard wireless similar to every other Zotac motherboard and you have a few benchtop buttons right next to the primary 24pin power connector. Really the only saving grace is the PWM.
Some motherboards have 10 phase PWMs, others have 4. the Gigabyte Z77X-UP7 has 32 while some of the higher end X79 boards feature 12 at best. The Zotac Z77 Crown comes with 24 power phases that wraps around the entire CPU and occupies the space normally left for the North Bridge or PCI Express bridge chip. Maybe the best feature of this PWM design is the large FPCAP power capacitor used to condition power going to the CPU giving you better stability at super high frequencies.
Some say these are unnessarry, but cleaner power means cleaner overclocks.
Chances are I will never see this motherboard in the Ninjalane Labs and if Zotac follows their normal pattern of high end product releases the enthusiasts of China will get first dibs and likely be the only market they pursue.
Related Web URL: http://vr-zone.com/articles/zotac-shows-off-the-zt...
comments powered by

Disqus