News
New Volta Architecture for Supercomputer GPU
Published:
Thursday, May 11, 2017

| Posted By:

Dennis
This is really exciting.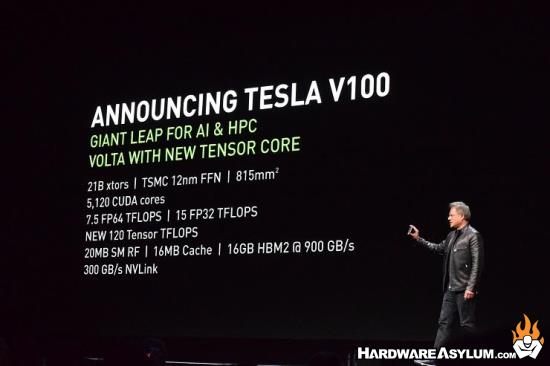 SAN JOSE, Calif.—Nvidia refreshed its lineup of GPUs for deep learning and artificial intelligence applications on Wednesday with the new 5,120-core, 7.5 teraflop Tesla V100 Volta.



The new processor is part of Nvidia's quest to come up with a new way to consistently improve computing performance in the aftermath of Moore's Law, which many industry leaders agree is pretty much dead. Instead of boosting processor speeds or cramming more transistors onto already-crowded silicon, Nvidia is championing GPU-accelerated computing, which the company's CEO Jensen Huang (pictured above) said can offer a 150 percent performance boost every year.



The Tesla V100, with a brand-new architecture called "Volta," represents that latest boost. It's the "next giant leap into the new world" of AI and high-performance computing, Huang said at Nvidia's developers conference here. The V100 will start shipping by the end of the year to data centers owned by Amazon, Microsoft, and other cloud computing providers in several different configurations.
Be sure to check out the entire story over at PCMag. According to NVIDIA they are building a platform for deep learning which is the precursor to AI and other exciting and scary things. From a hardware standpoint this new GPU is pretty amazing as it features HBM2 memory, 5120 CUDA cores and is built on a 12nm process. All of that fits on a small board that can then be scaled in datacenter systems with no upper level.
Related Web URL: http://www.pcmag.com/news/353597/nvidia-tips-new-v...
comments powered by

Disqus