News
EVGA GTX 1080 Ti Kingpin Edition Video Card - First Look!
Published:
Wednesday, May 31, 2017

| Posted By:

Dennis
There is plenty of hot Computex news coming out of Taiwan and in following with my evaluation of the EVGA X299 Dark I figured it was time to look at the new GTX 1080 TI Kingpin edition.
For those of you who don't know the Kingpin edition cards are specially designed "Classified" cards that were tweaked for LN2 Extreme overclocking. They work perfectly well on air however memory timings and the onboard VRM have been adjusted for high frequency overclocking and work better under those conditions. Of course to get the most from your Kingpin edition card you also had to find the special "unlocked" BIOS along with using an EVBot or the special voltage software used to control the power delivery. Neither were available direclty from EVGA.
Thing is with Pascal based chips the internal voltage controller limited how much you could do with the GPU and is one reason why we never saw a GTX 1080 Ti Classified, until now.
Kinda
The 1080 Ti KPE features an all new design with a revised 10-phase VRM, PCI Express power connections on the back edge of the PCB (something we talked about in the Hardware Asylum Podcast), voltage test points, EVBot connector and a couple of new things including an SLI Style finger at the top and a pin block at the bottom. They are claiming that every card is guaranteed to overclock to 2025Mhz out of the box meaning that the GPUs have been prequalified to run a certain speed. I would fully expect that to warrant a price premium similar to what EVGA did with the 980 Ti KPE cards.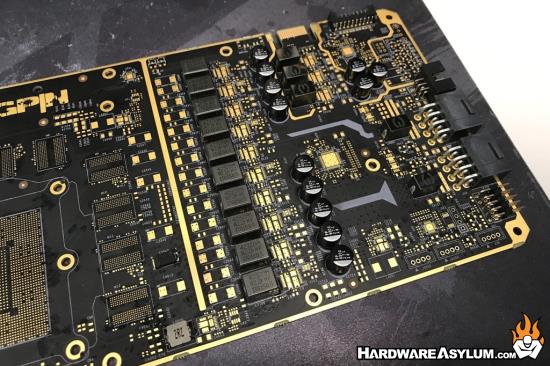 Of course the photo I found is of a bare PCB. Final versions will feature a triple fan cooler like on the FTW3, copper plated heatsink (like on previous KPE cards), ICX cooling technology so you can monitor temps of everything on the board, and cast style backplate for that added EVGA style.
Funny thing about the backplate. They were always "hop up" parts before everyone started making them standard and now that every card is expected to have a backplate EVGA has gone over the top with a cast style plate with even more thermal contacts.
Current rumors are that this card will be available in July so get your LN2 containers ready.
comments powered by

Disqus