News
Phanteks Enthoo Evolv mATX Tempered Glass Case Review @ ThinkComputers
Published:
Tuesday, June 06, 2017

| Posted By:

Dennis
One of the most impressive cases I have ever reviewed was the Enthoo Evolv Tempered Glass Edition. What made the case so great wasn't so much the tempered glass side panels but how everything inside the case was configured along with a good amound of actual mods that you can do.
The MicroATX version doen't have the same level of modifications but you can still build a pretty good machine inside.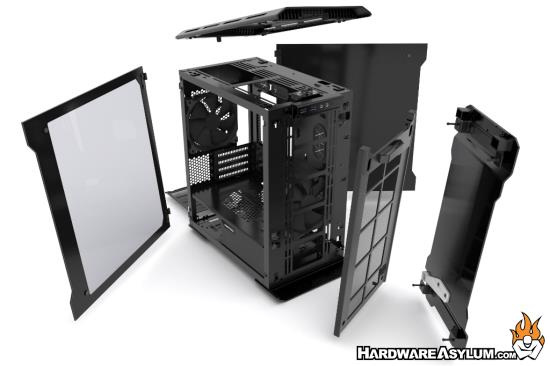 Phanteks' line of Enthoo Evlov cases has been one of our favorites over the past couple of years. This year they are giving the tempered glass treatment to many of the models in the series. Today we are going to be checking out the tempered glass version of the Evolv Micro-ATX case. This is the successor to the first ever Evolv case and combines 3mm aluminum with dual tempered glass side panels. This case has already proven to be one of the best out there and adding tempered glass panels is going to make it even better. Phanteks has also added RGB LEDs to the front of the case and around the power button, which you can sync with your motherboard software. Let's take a closer look at all this tempered glass and see if the Enthoo Evolv remains to be one of the best choices for Micro-ATX system builders.
Of course the real problem these days is finding a MicroATX motherboard. It seems most mobo makers are going full and extended ATX and MiniITX and passing over the Micro despite it being the superior platform.
Related Web URL: http://www.thinkcomputers.org/phanteks-enthoo-evol...
comments powered by

Disqus