News
MSI X399 Gaming Pro Carbon AC review @ Guru3D
Published:
Thursday, September 07, 2017

| Posted By:

Dennis
I will be the first to admit that Threadripper and me have not really ever seen eye to eye which might be a little lack of interest on my side combined with a "phsck, do I have to buy ANOTHER thousand dollar processor??"
Now, I realize that AMD fans feel that Threadripper is the best thing since Athlon64 and I'm here to tell you that, yes it very well might be and don't let that fancy installation guide convince you otherwise.
Of couse, with that out of the way lets take a look at a MSI motherboard from the MSI pimps over at Guru3D. If it says MSI, they will have undoubtably done a review.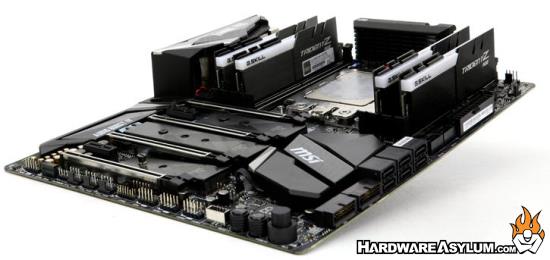 Let's check out another Ryzen Threadripper motherboard. We review the one from MSI as they have released their X399 Gaming Pro Carbon AC. The board is stylish, comes with very subtle LED effects and obviously offers everything you need from quadruple x16 PCI-Express slots, triple M2 SSD slots, quad-channel memory and some really supreme AC WIFI.
Gotta say, damn slick, damn slick.
Related Web URL: http://www.guru3d.com/articles-pages/msi-x399-gami...
comments powered by

Disqus