News
16 Piece Computer Tool Kit From Phanteks
Published:
Monday, February 12, 2018

| Posted By:

Dennis
When building a computer there are three things you will need.
Tools
Computer Parts
Some idea that certain parts attach to other parts
Notice that I listed "Tools" at the top of the list. Well, the reason for that is simple, even with tool-less cases there are certain parts of the computer assembly process that require a screw driver or a wrench (spanner for "other" parts of the world)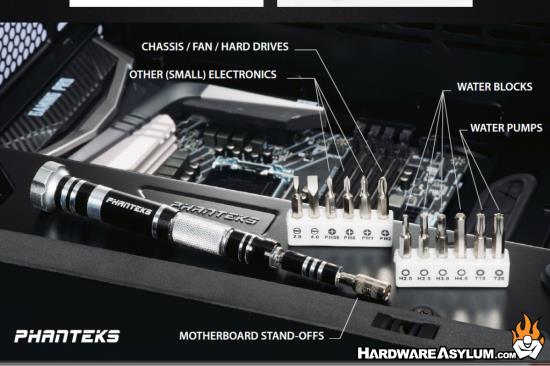 So what tools do you need? That is where Phanteks comes in, they have put together a very solid set of tools that should cover almost every tool you will need to assemble a computer, even some bits specific to watercooling components like pumps and blocks.
Ideal for first-time builders and enthusiasts, the 16 pieces tool kit includes: Allen wrench, 1pc magnetic extendable screwdriver handle, 13pcs bits (H2.0, H2.5, H3.0, H4.0, T15, T20, PH00, PH0, PH1, PH2, 2.0, 4.0, 5.0mm hex socket bit), and flexible shaft. Compact for travel, the included black case helps keep the tools in place and organized.
90% of computer building requires a standard #2 Philips screwdriver. You might need a socket to install a motherboard standoff and a standard screw driver to take the lid off the paint you'll use to customize the case but, for the most part a #2 is all you need.
And.. wouldn't you know it, Phanteks includes one.
Related Web URL: http://phanteks.com/PH-TKT.html
comments powered by

Disqus