News
Introduction of the BLAZE series ATX chassis with smoked tempered glass
Published:
Monday, May 28, 2018

| Posted By:

Dennis
28 May 2018 2018 – Maarheeze, The Netherlands – Introducing the BLAZE series by X2-gaming, lustrous PC enclosures completed with smoked tempered glass panel on the front and on one side, to show off your cool RGB lights and powerful hardware. These new PC cases will be available in 3 models, BLAZE 1,2 & 3, providing enough room for the installation of your pc components. Up to 3x HDD 3.5-inch, 3x SSD 2.5-inch drives and 7 PCI expansion slots for the installation of long graphics cards ( up to 380mm length VGA card ) large CPU cooler ( up to 170mm height clearance) and large power supplies up to 210mm ( specifications depending on the model number). The structure is built in two separate compartments, one for the mainboard and the other compartment for the power supply unit creating a duct airflow in the system. Productive air-cooling through multiple 120mm fan mount locations (up to 8) throughout the chassis and sufficient fresh air intake via the top and bottom intake pockets covered with removeable and washable dust filters. The BLAZE series come in 3 different models and all provide for easy upkeep like tool-free removal of the glass side and front panels. Considerable options for gaming peripheral connections through the USB2.0 and USB3.0 ports and HD Audio jacks situated on the top-front of the case. The chassis is constructed out of 0.5/0.6mm SPCC all black coated steel and facilitates neat cable routing through numerous pockets throughout the structure. Expose your PC hardware, RGB & AURA lights, water or air coolers through the tempered glass window side and front panel. X2 believes in exceptional style at affordable pricing - All geared up!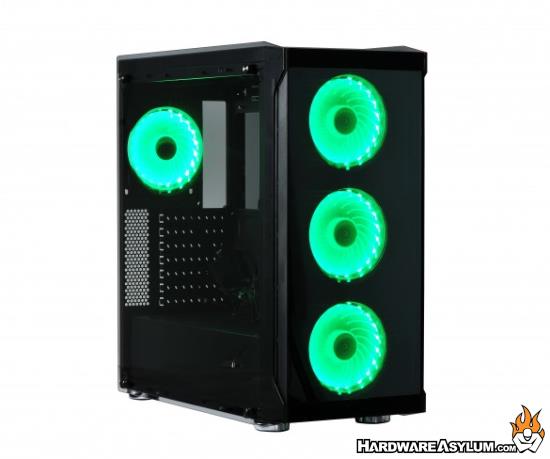 GENERAL FEATURES FOR ALL 3 MODELS
ATX pc case with tempered glass 0.5/0.6mm SPCC steel chassis All black coated structure Front and left side smoked tempered glass Separated mainboard compartment and PSU chamber 1*USB3.0 & 2*USB2.0 + AC97/HD AUDIO Various air intakes with removable dust filters 2 years manufacturer warranty Manufacturer Suggested Retail Price: X2-OR7007G/W-U3 is €52,95 / $62,95 X2-A7004G/W-U3 is €54,95 / $64,95 X2-A7005G/W-U3 is €59,95 / $69,95 ABOUT X2: X2 is a brand of Bytecom Fanner and is originated by a team of PC enthusiasts & gamers in The Netherlands. X2 believes in exceptional style coupled with genuine quality, redefining the meaning of affordable PC gaming.

BLAZE I: http://www.x2products.com/computer-cases/blaze-i-x2-or7007gw-u3/specs/
BLAZE II: http://www.x2products.com/computer-cases/blaze-ii-x2-a7004gw-u3/specs/
BLAZE III: http://www.x2products.com/computer-cases/blaze-iii-x2-a7005gw-u3/specs/
comments powered by

Disqus