News
EK Covers the MSI MEG Z390 ACE With a Momentum Monoblock
Published:
Monday, July 29, 2019

| Posted By:

Dennis
I'm not sure how I missed this but I am impressed.
Earlier this year I used the MSI Z390 ACE for some extreme overclocking using LN2 on a 9900K. This was an extended project allowing me to clock in excess of 6Ghz over two weeks. The system ran like a champ and allowed me to capture a gold cup in 3DMark 06.
After that I wondered what other extreme stuff I could do with the board and was saddened by the fact that, at the time, I could not watercool the board.
Well. it turns out you can.
EK-Momentum MSI MEG Z390 ACE D-RGB

This is a complete all-in-one (CPU and motherboard) liquid cooling solution for motherboards that supports the 8th and 9th generation of Intel Core processors. Motherboards that are compatible with this monoblock are the following: MEG Z390 ACE. Designed and engineered in cooperation with MSI®, this monoblock uses the latest generation of EK cooling engine used on the Quantum lineup to ensure the best possible CPU cooling while not reducing flow to other components. This water block directly cools the LGA1151 socket type CPU, as well as the voltage regulation (MOSFET) module. Liquid flows directly over all critical areas, providing the enthusiasts with a great solution for high and stable overclocks. Like with every EK monoblock, EK-Momentum MEG Z390 ACE D-RGB features high flow design and it can be easily used with the system using a weaker water pump or lower pump speed settings as well. The Momentum monoblock also comes with sophisticated D-RGB (addressable) lightning which connects to a standard 3-pin 5V D-RGB header.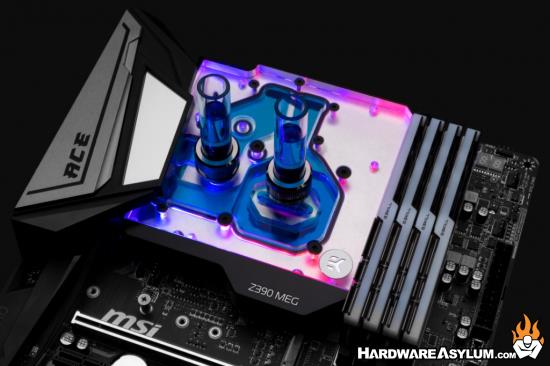 This Z390 monoblock also comes with a special cold plate which ensures that the monoblock has better mechanical contact with the IHS of 8th and 9th gen Intel 1151 socket based processors by avoiding raised corners. The result is better thermal transfer. The base of the monoblock is made of nickel-plated electrolytic copper while the top is made of quality acrylic glass material. The nickel plated brass screw-in standoffs are pre-installed and allow for easy installation.
A Digital (addressable) 3-pin 5V D-RGB LED strip is installed in the monoblock that connects to the motherboard's 3-pin LED header or it can be connected to any other supported 5V 3-pin LED controller. This product is compatible with MSI Mystic Light RGB control software. The arrow marking on the 3-pin LED connector is to be aligned with the +5V marking on the RGB header.
comments powered by

Disqus