After careful consideration I have decided to transfer all hardware review activities to a new domain. I purchased Hardwareasylum.com in 2012 and have been working hard to build a new and improved Ninjalane on that domain. If you are reading this you have reached one of the archived articles, news, projects and/or reviews that were left behind during the site migration.
Please update your bookmarks and be sure to visit the new and improved Ninjalane at Hardwareasylum.com
Epox EP-8RDA+ Motherboard Review
Epox EP-8RDA+ Motherboard Review
Author:

Dennis Garcia
Published:
Monday, March 24, 2003

Board Features and Layout
Board Features and Layout
Epox decided to use a passive cooling scheme on the Northbridge, knowing that the nForce2 Northbridge chip can get rather hot I find the passive heatsink a little surprising. Looking under the heatsink we find a bubblegum style thermal pad positioned directly over the Northbridge chip. Considering that this is a passive heatsink the importance of thermal paste could be argued though for sanity sake the thermal pad was removed and replaced with a thin coating of Artic Silver.
The major change in v1.1 8RDA+ boards is the inclusion of an A3 revision Northbridge. This is the same version chipset as was used on the Soltek board the only difference is what factory it came from, Taiwan vs. Korea.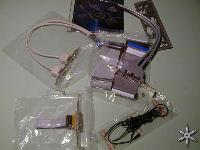 The 8RDA+ comes with just about everything you'll need to get up and running including extra USB 2.0 ports, IEEE1394 ports, ATA and floppy cables, I/O cover and manual. The only thing missing is the 6-channel audio adapter.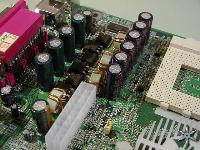 Unlike the Soltek 75FRN-L the 8RDA+ uses the ever popular three phase Mosfet power supply and doesn't require an additional P4 style 12v interface.
This motherboard supports all 462 Socket A processors though with the exclusion of the in-socket thermal diode temperature monitoring will be limited to the Athlon XP processors and above. The Jumper allows you to manually set the FSB speed from 100/133 FSB to 133/166 FSB(default). Under normal circumstances you will never need to remove this jumper since the BIOS will control everything for you.