After careful consideration I have decided to transfer all hardware review activities to a new domain. I purchased Hardwareasylum.com in 2012 and have been working hard to build a new and improved Ninjalane on that domain. If you are reading this you have reached one of the archived articles, news, projects and/or reviews that were left behind during the site migration.
Please update your bookmarks and be sure to visit the new and improved Ninjalane at Hardwareasylum.com
Super Talent UltraDrive ME 32GB SSD Review
Author:

Jim Manis
Published:
Tuesday, September 22, 2009

Benchmarks
Here we will show the results of several other applications. These include two virus scans, a re-boot timer and of course the popular SiSoftware Sandra Suite. The first up on the list is a little script we found which utilizes the Motherboards real time clock; it closes out Windows, shuts down and reboots. When it gets into windows again it will display the time difference. It is important to point out that the board used consumes a bit of time displaying various BIOS post screens and the RAID times have approx a 5 sec penalty due to displaying its status screen. However since our tests were done using the same motherboard the additional time will be the same across the tests.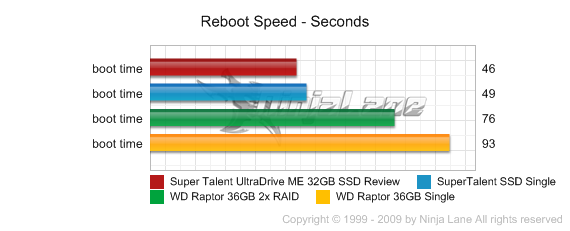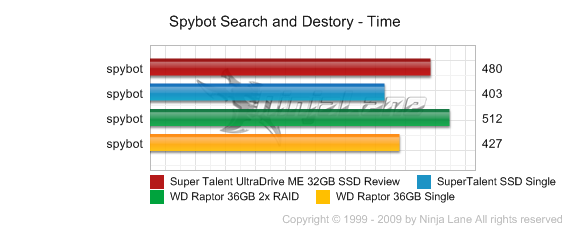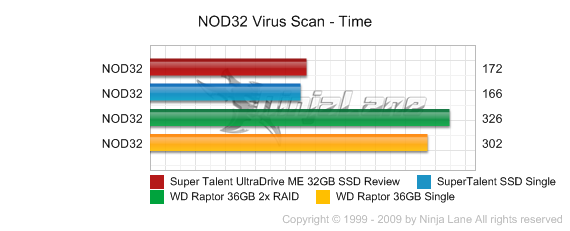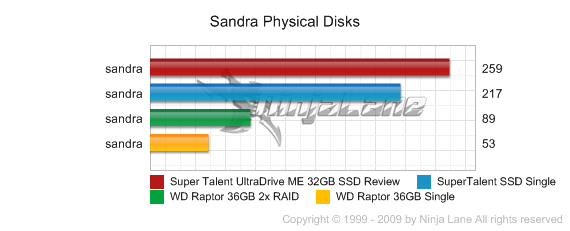 The results seen here are exactly what you would expect to see and the Super Talent SSD's scored best across the board. The day to day applications like virus scanners showed a decent return when disk access was involved and of course the synthetic tests used in the SiSoft Sandra Suite showed the largest gains.