After careful consideration I have decided to transfer all hardware review activities to a new domain. I purchased Hardwareasylum.com in 2012 and have been working hard to build a new and improved Ninjalane on that domain. If you are reading this you have reached one of the archived articles, news, projects and/or reviews that were left behind during the site migration.
Please update your bookmarks and be sure to visit the new and improved Ninjalane at Hardwareasylum.com
Gigabyte GeForce GTS 450 Video Card Review
Author:

Will West
Published:
Thursday, September 30, 2010

Overclocking
Factory overclocking is designed to give the video card a safe boost in performance across a large sample of GPUs. Some chips can clock higher than others so it is important to pick a speed that shows a nice boost in performance but also scales well across the entire product line.

The overclock found on the Gigabyte GeForce GTS 450 is rather mild considering what the GPU is generally capable of, but was still good enough to make it one of the faster GTS 450's on the market.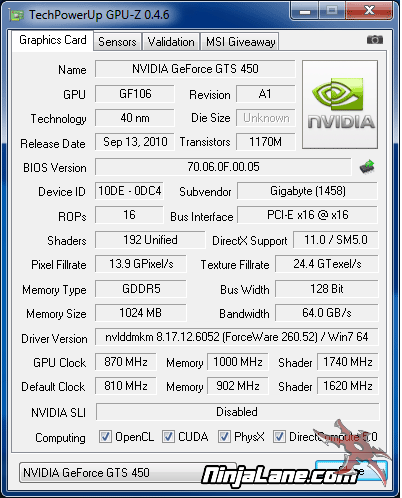 It's always exciting to find, and unlock extra performance when it comes to factory overclocked cards. Gigabyte's GTS 450 did not disappoint. We suspect that with a minor bump in core voltage we could have gone further, alas that wasn't an option with this card.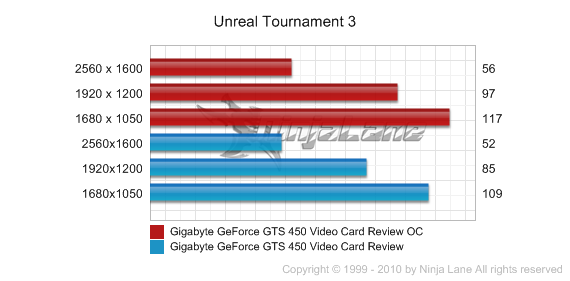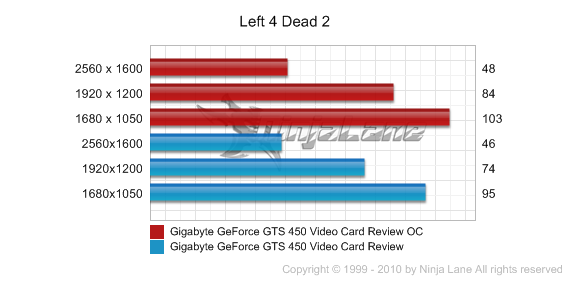 Once again our overclock shows healthy gains at the lower resolutions which diminishes as the resolution increases.