After careful consideration I have decided to transfer all hardware review activities to a new domain. I purchased Hardwareasylum.com in 2012 and have been working hard to build a new and improved Ninjalane on that domain. If you are reading this you have reached one of the archived articles, news, projects and/or reviews that were left behind during the site migration.
Please update your bookmarks and be sure to visit the new and improved Ninjalane at Hardwareasylum.com
Sapphire Radeon HD 4670 Video Card Review
Author:

William West
Published:
Monday, February 16, 2009

Introduction
Sapphire is one of the best known ATI partners that apply their own intellectual property (IP) to every product they release. This sort of thing is very common with nVidia products but when it comes to ATI cards more often than not we find a boring reference design. The Sapphire Radeon HD 4670 is not the usual reference design video card and as we mentioned is one of the great things about Sapphire. They take the boring, reference design, and make it into a bigger meaner version. The card comes with 512MB of GDDR4 RAM for better graphics performance and a price tag of around $80-$95 dollars making the HD 4670 a solid mid-range product. The smaller price tag doesn't always mean "performance strapped" as you will see later in this review.

In the realm of gaming your experience is just a matter of money, how good do you want it to be? Well this thinking still holds some truth with some of the games of today, but for the most part it still is a mixed bag and the ability to play games at their fullest potential on a mid-range video card is very much a reality.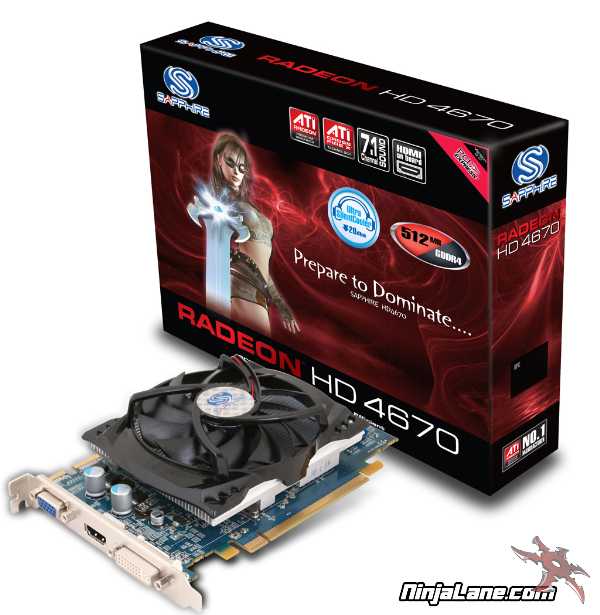 In this review we are going to look at the gaming aspect of the HD 4670 and touch on some of the extra features the GPU can give the HTPC crowd.

Let's get this review rolling.