reviews
Sapphire Radeon HD5870 Video Card Review
Author: Will West

Published: Tuesday, February 16, 2010

Discuss in the Forums
Unreal Tournament 3
Unreal Tournament 3 is a game set sometime in the future that is all about killing. There really is no real story line or single player type game. What UT3 lacks in story line it makes up in all around great gaming fun. The multiplayer is second to none and happens to be a great LAN Party game.
For benchmarking all setting was turned up to the highest setting of 5. V-Sync and SmoothFrames was turned off to get the maximum gaming Frame Per Second. Post Processing was kicked up to intense for a super awesome gaming experience. The level used for the benches is CarbonFire loaded with fun loving bots, with great one liner comments.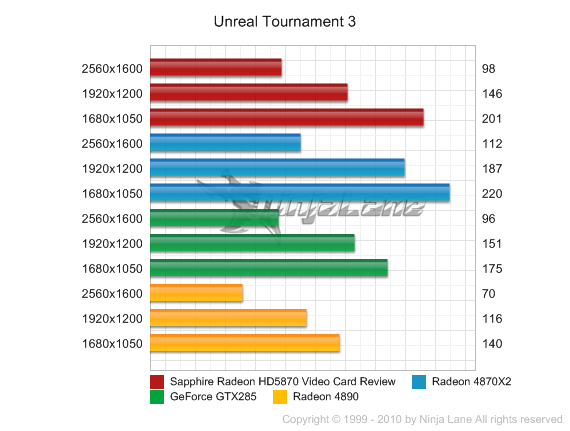 The Sapphire Radeon HD5870 holds its own over the older GeForce GTX285, but just barely. The main competition here turns out to be the older Radeon HD4870X2.

In the end, the Sapphire Radeon HD5870 does quite well for a single chip graphics card.