After careful consideration I have decided to transfer all hardware review activities to a new domain. I purchased Hardwareasylum.com in 2012 and have been working hard to build a new and improved Ninjalane on that domain. If you are reading this you have reached one of the archived articles, news, projects and/or reviews that were left behind during the site migration.
Please update your bookmarks and be sure to visit the new and improved Ninjalane at Hardwareasylum.com
Computex 2010 Day 2
Author:

Dennis Garcia
Published:
Wednesday, June 09, 2010

EVGA
When it comes to motherboards the EVGA SR-2 was one of the most popular ones at Computex. Not because it was new, powerful, and exciting, but rather it provided an easy way for companies to show off what custom things they could do.
Here is the board that started it all, complete and in final revision format. The board is overkill but we like that.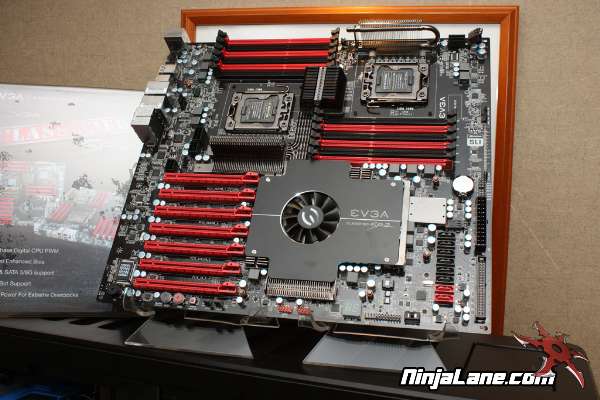 Here are a couple of other systems EVGA had on display.
The video card selection only consisted of Fermi parts. Below we have a GTX465 and watercooled GTX480. The waterblock is a microfin design that cools both the GPU and memory array. The finned area is a heatpipe cooler dedicated to the VRM. Together they offer a single slot cooling solution we all can enjoy.
Don't forget the overclocking show. Shamino and K|ngp|n were hosting an overclocking demonstration using a wide variety of EVGA, GSkill, and Kingpincooling products.

The show consisted of some 6Ghz gaming and overclocking games where people from the crowd would be invited up to "to complete the game" and "don't get crashed". Lucky winners walked away with either an EVGA motherboard, EVGA video card, or GSkill memory.
The biggest news related to EVGA motherboards is a minor upgrade to support both SATA6 and USB3. Some of the boards will also get upgraded coolers but will otherwise look almost identical.