After careful consideration I have decided to transfer all hardware review activities to a new domain. I purchased Hardwareasylum.com in 2012 and have been working hard to build a new and improved Ninjalane on that domain. If you are reading this you have reached one of the archived articles, news, projects and/or reviews that were left behind during the site migration.
Please update your bookmarks and be sure to visit the new and improved Ninjalane at Hardwareasylum.com
Computex 2010 Day 2
Author:

Dennis Garcia
Published:
Wednesday, June 09, 2010

Introduction
Day 2 of Computex is what we like to call "working day", the schedule was full with meetings and stacked back to back. Most of the time we don't expect our meetings to run over the hour, in fact some of them only last 20 minutes. Aside from a truncated lunch hour due to inter-halll travel the day went extremely smooth.
Albratron
The first company on the list is Albratron. Albratron used to make consumer level video cards and motherboards, but over the years they have slowly refocused their efforts on industrial design and touch screen panels.

Each of the panels comes with 2 cameras, one in each corner. These cameras use a form of triangulation to track objects as they touch the screen and/or move around. Albratron then uses gesture software to convert what the camera(s) see into a mouse pointer on the screen thus converting any monitor into a touch screen device.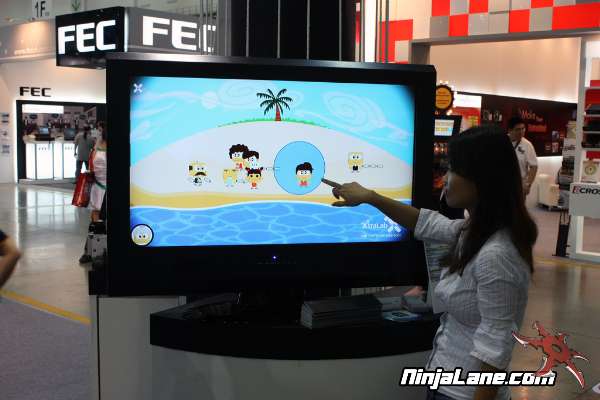 They had a great way to show off their technology using this simple GUI designed for children and the elderly. What this program does is allows them to send email to anyone in their address book using cartoon avatars and their fingers. Simply drag a circle around the person you want to send a message to and away you go.