After careful consideration I have decided to transfer all hardware review activities to a new domain. I purchased Hardwareasylum.com in 2012 and have been working hard to build a new and improved Ninjalane on that domain. If you are reading this you have reached one of the archived articles, news, projects and/or reviews that were left behind during the site migration.
Please update your bookmarks and be sure to visit the new and improved Ninjalane at Hardwareasylum.com
Dual Desktops Explained
Author:

Dennis Garcia
Published:
Thursday, July 26, 2001

Introduction
There are many ways to run multiple monitors under windows 2000 By far the easiest way is to get a video card with dual video outs. Matrox, ATI, Nvidia, and 3D Labs all produce video chips for this task though in the case of ATI and Nvidia these are usually the lower end products.
The second and more desirable method (for the gamer) is to simply add another video card to your system. From within windows you can assign a primary video device and away you go.

For the purposes of this article I will start off by explaining Nvidia's implementation of dual monitors "TwinView" and then dive into the process of adding a second video card to your system and how it differs from Nvidia's TwinView.
Pictured here is my recently acquired Gainward CARDEXpert GeForce2 TwinView/VIVO Golden Sample AGP card (sorry for the long name, I didn't do it) as you can see it has two D-sub video outs and a video decoder port (the VIVO portion). It should be known that some companies that produce Nvidia TwinView cards don't use two D-sub connectors for the second video device but rather an S-video out (Hercules) or DVI connector (Elsa). Though you can still get the TwinView features from these connectors you will need an adaptor. My suggestion, If you have two analog monitors get the dual D-sub.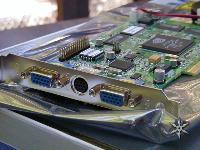 Here are some more photos of the Gainward card. This is the Golden Sample version so it comes with 32MB of 4ms SDRAM memory and the MX400 chip. Here is a link to the
specs
What surprised me was the addition of the thermal pad instead of grease. I fixed that oversight on their part and replaced it with some Arctic Silver.
For those of you in the market for a dual monitor MX card Inno3D has a 64MB version.