News
NVIDIA Launches GTX 1080 Ti before GDC - And it is good
Published:
Tuesday, February 28, 2017

| Posted By:

Dennis
We all knew this day would happen, the mighty Ti has landed and it should be good. Of course anyone who has paid any sort of attention will know how NVIDIA does things as they did the exact same thing with GTX 780 and GTX 980.
According to reports the new Pascal based GTX 1080 Ti will sit between the Titan X and GTX 1080 in terms of intended performance however will have the same number of CUDA cores with less ROP pixels per clock . That will lower overall computational performance which is then made up for with a 1600Mhz boost clock and suspected 2000Mhz OC performance. All Pascal based cards all top out around 2000Mhz so that is really no surprise.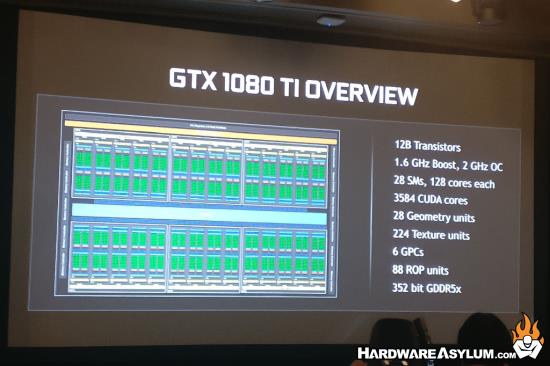 The card will feature a 220w TDP and 352 Bit memory interface (WTF?) and 11GB of GDDR5X Micron memory. For anyone waiting to get their GTX 1080 this might also be the perfect time considering that NVIDIA Is also lowering the price of the 1080 down to $499 and will price the GTX 1080 Ti at around $699.
Of course the best part and the part I got wrong in my speculation is that the new GTX 1080 Ti FE cards will be available next week and with any luck the custom boards will also be launched around the same time.
comments powered by

Disqus