News
Corsair Gaming K63 Compact Mechanical Keyboard @ Bjorn3d
Published:
Monday, April 10, 2017

| Posted By:

Dennis
Corsair is a pretty big name in the aftermarket computer world and just to think it all started with a memory module. Now days they are into everything from door stops to air movers with just enough RGB lighting to give Las Vegas Blvd a run for its money.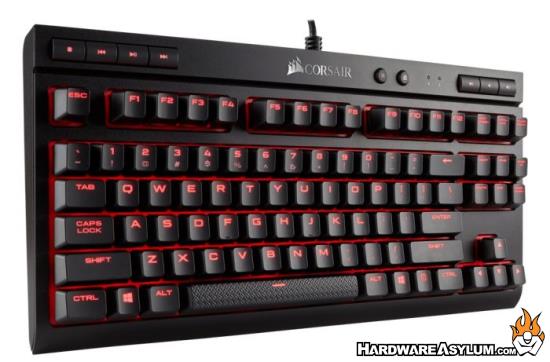 The latest edition to Corsair's extensive keyboard lineup comes in the form of the K63 compact mechanical keyboard. Aimed at the gaming crowd, the K63 is an entry level keyboard hitting the market at a price point of $80. Now, you may be asking yourself: Doesn't Corsair have multiple budget-based options like the K65 or the K40? What about the K55 with RGB capability? Why should I be interested in the K63? The K63 shines in comparison to the other budget options with it's bed of 100% Cherry MX Red mechanical switches, compact tenkeyless design, red per-key LED backlighting and support for Corsair's CUE software. The K63 is the only option in Corsair's budget lineup to offer this combination of features. That also makes the K63 the cheapest option from Corsair to come with genuine mechanical switches.
Talk about a dinky small keyboard, it is almost cute if it wasn't for that pesky thing that nobody likes. Of course it comes with per key LED backlighting, cause: reasons and I'm sure it will be marketed heavliy on reddit and sent to every YouTube tech channel currently active in that community.
#justsayin
Related Web URL: https://www.bjorn3d.com/2017/03/corsair-k63-keyboa...
comments powered by

Disqus