News
X299 Aorus Gaming 9 and X299 Aorus Gaming 7 - First Look!
Published:
Thursday, June 01, 2017

| Posted By:

Dennis
Gigabyte is one of those companies that LOVES to change their mind and when they do watch out because they will go all in to make their vision happen. Case in point EVERYTHING is going to change and they . Case in point in 2011 Gigabyte decided to taking on the overclocking niche with a full line of overclocking motherboards. Custom colors, custom designs dedicated overclockers any and everything they needed to make it work they did.
Before overclocking motherboards everything was built on blue PCBs and there was a time that color coding was used to help OEMs build PCs. If you step back much of this is creative marketing but instead of addressing the problem they take the opportunity to highlight the situation and their solution best they can.
This year overclocking has fallen by the wayside in favor of a new niche, gaming. The Gigabyte OC Lab is now the Aorus Gaming Lab and while you can still overclock on Aorus motherboards the marketing message has changed to focus on gaming and esports.
During Computex the Intel X299 chipset was announced and Gigabyte (Aorus) launched three new board designs following their Aorus Gaming brand and yet still retaining some of the Ultra Durable nomenclature. I wanted to take a closer look at the X299 Gaming 7 and X299 Gaming 9 motherboards. If history holds true the Gaming 7 will be the high-end mainstream board while Gaming 9 will most likely be limited edition, cost prohibitive and generally unavailable.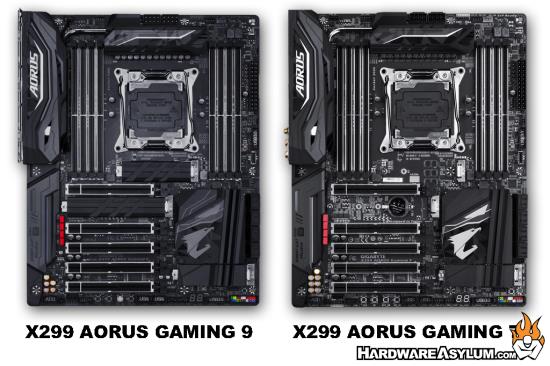 Looking at the boards side by side they look virtually identical. In fact the only difference I see is the lack of M.2 covers and a few slight changes to the onboard heatsinks. Looking at the feature list tells a similar story.
Gaming 9: Intel X299 Gaming motherboard with RGB Fusion, Digital LED, Triple M.2 with Thermal Guard, ESS SABRE 9018K2M DAC, Killer DoubleShot™ Pro, Front & rear USB 3.1 Gen 2 Type-C
Gaming 7: Intel X299 Gaming motherboard with RGB Fusion, Digital LED, Triple M.2 with Thermal Guard, ESS SABRE 9018 DAC, Killer DoubleShot™ Pro, Front & rear USB 3.1 Gen 2 Type-C
The only major difference is the DAC processor.
Key Features
Supports Intel® Core™ X-series Processor Family
Quad Channel Non-ECC Unbuffered DDR4, 8 DIMMs
Intel® Optane™ Memory Ready
ASMedia 3142 USB 3.1 Gen 2 with USB Type-C™ and Type-A
Front USB 3.1 Gen 2 Header
3-Way Graphics Support with Dual Armor and Ultra Durable™ Design
Ultra Durable™ Base Plate Armor and Integrated I/O Shield Armor Design
Server-Class Digital Power Design
127dB SNR AMP-UP Audio with High-End ESS SABRE 9018K2M DAC, LME 49720 and OPA1622 OP-AMP, WIMA audio capacitor
Sound BlasterX 720°, the top-of-the-line audio engine solution for 4K gaming and entertainment
Killer DoubleShot™ Pro and Intel® GbE LAN for the best gaming networking experience possible
Killer 2x2 802.11ac Wireless – AC 1535
RGB FUSION with Multi-Zone Digital LED Light Show design, support digital LED & RGB LED strips
Swappable Overlay for Accent LED
Smart Fan 5 features Multiple Temperature Sensors and Hybrid Fan Headers with FAN STOP
Triple Ultra-Fast M.2 with PCIe Gen3 x4 interface and Thermal Guard
PCIe Gen3 x4 M.2 Add-In Card with Thermal Guard
NVMe PCIe Gen3 x4 U.2 adaptor
USB DAC-UP 2 with Adjustable Voltage
Precise Digital USB Fuse Design for Stronger Protection
Anti-Sulfur Resistor Design
Ultra Durable™ 25KV ESD and 15KV Surge LAN Protection
Lightning-Fast Intel® Thunderbolt™ 3 support by option AIC
GIGABYTE UEFI DualBIOS™ with Q-Flash Plus USB port
Both motherboards are designed for 3-way graphics support and include a High Bandwidth bridge for SLI. As you can assume Fusion RGB is a standard feature with lighting support everywhere including on the I/O shields, expansion slots, memory slots, heatinks and audio controller.
DDR4 memory support is limited to 2666Mhz and I find it interesting that memory density is dictated by the PCI Express Lane support in your CPU. That makes sense given that the 16-Lane CPUs only have a dual channel memory controller while the 44-Lane and 28-Lane CPUs support quad channel memory like they should.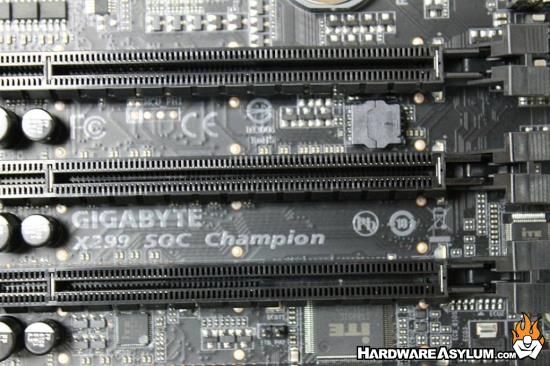 I doubt anyone will load up a Gaming 7 or Gaming 9 with a 16-Lane CPU but stranger things have happened. Sadly, it would seem the SOC (Super OverClock) versions of the X299 were not released during Computex however I did see some photos of the X299 SOC Champion. So I'll be crossing all of my body parts in anticipation.

Related Web URL: http://www.gigabyte.us/Motherboard/Socket-2066
comments powered by

Disqus