News
NVIDIA Unveils Turing, Reinventing Computer Graphics
Published:
Tuesday, August 14, 2018

| Posted By:

Dennis
The hardware community has been buzzing about the next NVIDIA GPU wondering how fast it would be, speculating on the name and it really was just that, a speculation. Well, the wait is over, the new GPU is here.
During SIGGRAPH, the professional graphics conference in Vancouver Jensen Huang announced Turing, and more specifically the new NVIDIA Quadro RTX 8000, Quadro RTX 6000 and Quadro RTX 5000.
Sorry people no gaming GPU yet. I am humbled to realized that NVIDIA eluded to all of this at Computex but nobody was paying much attention it would seem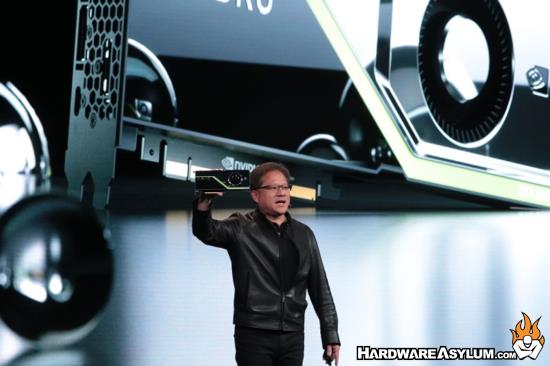 "This fundamentally changes how computer graphics will be done, it's a step change in realism," Huang told an audience of more than 1,200 graphics pros gathered at the sleek glass and steel Vancouver Convention Center, which sits across a waterway criss-crossed by cruise ships and seaplanes from the stunning North Shore mountains.

DellEMC, HPI, Hewlett-Packard Enterprise, Lenovo, Fujitsu, Boxx, and SuperMicro will be among the system vendors supporting the latest line of Quadro processors, he said. All three new Quadro GPUs will be available in the fourth quarter.
One thing that NVIDIA talked about during Computex is their new line of professional graphics computers, aka, Workstations built to use the power of NVIDIA graphics, this powerhouse is the basis of RTX Server and should put NVIDIA in the graphics and rendering space for a long time.
As if they weren't there already.
Another huge subject is "Ray Tracing". Anyone who has ever rendered a 3D image will know that the calculations required to do Ray Traced shadows is quite expensive. It is one of the major reasons it takes so long to render 3D animated movies and one of the stepping stones replicating the real world in computer games. With Turing NVIDIA claims this can be done in real time using dedicated RT (Ray Tracing) cores built into the GPU with a claimed 25x performance advantage over Pascal.
Of course the list of benefits goes on to include faster AI and generally faster rasterization performance. All things made possible by cranking that "stuff" up.

To read the full press/blog post check out the link below.
Related Web URL: https://blogs.nvidia.com/blog/2018/08/13/jensen-hu...
comments powered by

Disqus