News
EnGenius Now Shipping Affordable Consumer Wi-Fi Mesh Solution
Published:
Thursday, May 2, 2019

| Posted By:

Dennis
COSTA MESA, Calif., May 2nd, 2019 -- EnGenius Technologies Inc., a multinational networking company known for offering a vast range of quality networking solutions for both consumers and businesses, is pleased to announce the long-awaited Wi-Fi mesh network system called MESHdot Kit. The bundle includes an elegant wireless mesh router called ESR530, and MESHdot (EMD11), one of the smallest AC1300 mesh nodes in the world. Both products included in the MESHdot Kit bundle are built on the Qualcomm Mesh Networking platform. The new Wi-Fi mesh network system is easy to set up and is a direct solution for budget-conscious families wanting to enjoy spotless single-network Wi-Fi signal across the entire house and backyard without breaking the bank.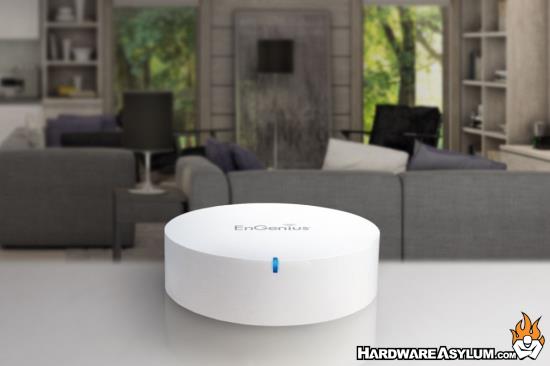 It only takes a few minutes to create a robust Wi-Fi network and experience superior home Wi-Fi connectivity. Through the EnMesh app consumers can quickly and easily set-up their MESHdot Kit to provide their whole home with seamless Wi-Fi. The EnMesh app provides robust parental control features as well as the ability to remotely monitor and manage the homes network and connected devices.
The ESR530 comes with built-in 360° high-performance antenna, and the plug-and-play compact MESHdot gives consumers flexibility to cover spotty Wi-Fi areas making sure the home network covers every corner of the entire house. Designed to please the eye and combined with a power plug, EnGenius MESHdot provides high-speed performance perfect for smooth streaming of 4K Ultra HD videos, online gaming with support for latest generation consoles, and stable connection powered by EnMesh™ wireless link technology.
The ESR530 within the MESHdot Kit allows users to create private cloud networks from their home network. With the EnGenius EnFile app, users can use smart devices to play music and videos, back up photos and transfer other data through an attached USB hard drive on their ESR530 when they are away from home. Using EnFile also allows consumers to manage not only files on a remote USB hard drive but also the ones located on their smartphone. Pictures, music, videos, and documents can easily be managed and organized within the app on any mobile device.
MC Leo, general manager at EnGenius Technologies, said, "by offering the MESHdot Kit to the world, we are responding to a market-demand for plug-and-play affordable, eye-pleasing products able to support stable mesh network that can cover an entire house. And this is just the beginning, in 2019 we will continue to introduce EnGenius products that help smart homes operate smoothly."
"Consumers' expectations for high speed performance and seamless connectivity throughout their home have never been higher. Mesh systems like the EnGenius MESHdot Kit, based on the Qualcomm Mesh Networking platform, are designed to meet this demand," said Nick Kucharewski, vice president and general manager, WIN, Qualcomm Technologies, Inc. "Qualcomm Technologies applauds EnGenius' innovation to make their mesh system available to consumers at an affordable price point."
The new MESHdot Kit ($99 MSRP) is now shipping. To learn more about EnGenius' latest products, visit https://www.engeniustech.com/enmesh-wifi/meshdot-kit-home-wifi-system-promotion/
comments powered by

Disqus