After careful consideration I have decided to transfer all hardware review activities to a new domain. I purchased Hardwareasylum.com in 2012 and have been working hard to build a new and improved Ninjalane on that domain. If you are reading this you have reached one of the archived articles, news, projects and/or reviews that were left behind during the site migration.
Please update your bookmarks and be sure to visit the new and improved Ninjalane at Hardwareasylum.com
Noctua NH-D14 Heatsink Review
Author:

Dennis Garcia
Published:
Thursday, April 29, 2010

Installation
Installing the Noctua NH-D14 is pretty straight forward, the accessory box comes with everything you will need including the reinforced back plate, fan tail accessories (to control fan RPM), screw driver, and mounting plates for both A64 and Intel processors.
You start by installing the back plate and placing the included spacers over the exposed threaded posts.

Next you secure the mounting plates to those posts using the included screw caps. These simply lock down without any sort of spring pressure.
Installing the heatsink can be a little tricky and due to the overall size will require a few trial fits to get correct. We choose the vertical placement since the horizontal position was contacting the passive north bridge cooler.

To secure the heatsink you must first remove the center 140mm fan which will expose the mounting screws.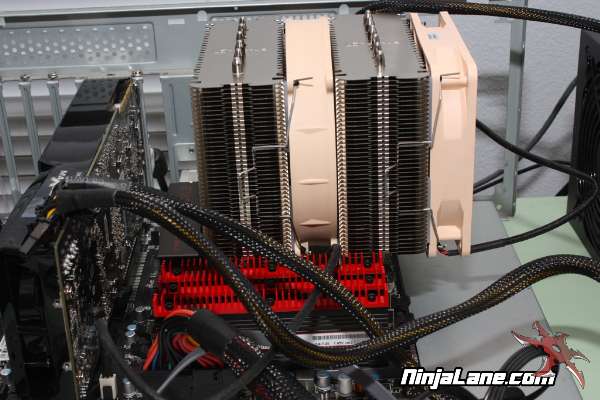 When you are done reinstall the center fan and plug in the fan headers.

We did mention that the NH-D14 is extremely large?, so much in fact that it extends beyond the top of the motherboard. If your motherboard allows it you can gain some additional space by rotating the heatsink 90 degrees.

Your situations can, and will likely, vary.