After careful consideration I have decided to transfer all hardware review activities to a new domain. I purchased Hardwareasylum.com in 2012 and have been working hard to build a new and improved Ninjalane on that domain. If you are reading this you have reached one of the archived articles, news, projects and/or reviews that were left behind during the site migration.
Please update your bookmarks and be sure to visit the new and improved Ninjalane at Hardwareasylum.com
A-DATA Vitesta 800 Memory Review
Author:

Dennis Garcia
Published:
Sunday, January 28, 2007

Benchmarks - Synthetic
The system as it was tested
Foxconn 975X7AB-8EKRS2H Intel 975X Express Chipset
Core 2 Duo E6400 (2.13GHz) 2MB L2 cache 1066MHz FSB (Dual-Core)
OEM Heatsink
Chaintech SE6600G GeForce 6600GT PCI Express
IBM Hitachi Deskstar 80gig SerialATA 7200RPM
Hiper Type R 730 power supply
12x/40x DVD/CDRom
Windows XP Professional Service Pack 2
Memory Tested
2x Adata Vitesta DDR2 800 (5-5-5-15) 512megs
2x Corsair Twin2X 5400C4PRO DDR675 (4-4-4-12) 512megs
CPU-Z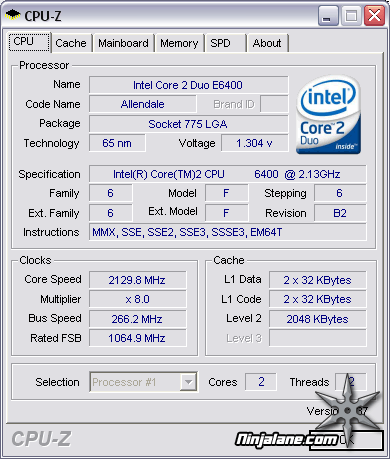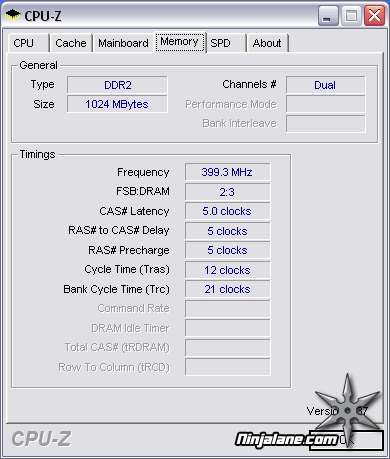 SiSoft Sandra
Sandra is a software collection of synthetic benchmarks that will give us a basic idea as to what a system is capable of. It should be noted that SiSoft numbers change depending on what version you have installed, these were recorded using Sandra Professional Version 2007.9.10.105



Cachemem
Cachemem is a synthetic benchmark used to test bandwidth and latency.

Quake 4
Quake4 is the latest installment in a long line of "Quake" games from id Software. While the storyline is more in line with Quake2 the game engine is taken from Doom3. Together they make for a very exciting game with some pretty amazing graphics. For this benchmark we're using the v1.2 patch and included nettimedemo id_demo001. To run this demo pull down the console and type "playnettimedemo id_demo001", when complete pulldown the console again to see your score.

Synthetic Conclusion
Synthetic performance never really tells the entire story but is a good benchmark of what the system "could" do under the right conditions. In this case we are seeing what you would expect from an 800Mhz memory module when compared to the slower Corsair TwinX. Technically speaking the Corsair memory has the timing advantage which is good for small chunks of data however getting data in and out of system memory is frequency controlled which is why the 800Mhz module wins out.