After careful consideration I have decided to transfer all hardware review activities to a new domain. I purchased Hardwareasylum.com in 2012 and have been working hard to build a new and improved Ninjalane on that domain. If you are reading this you have reached one of the archived articles, news, projects and/or reviews that were left behind during the site migration.
Please update your bookmarks and be sure to visit the new and improved Ninjalane at Hardwareasylum.com
DFI LanParty Dark X38 Motherboard Review
DFI LanParty Dark X38 Motherboard Review
Author:

Dennis Garcia
Published:
Thursday, May 15, 2008

Introduction
When it comes to choosing a motherboard there are several things to consider in terms of chipset, processor compatibility and onboard features. You also have to decide, do you shoot for the moon and go with the best quality board you can buy or do you look for the cheapest one that supports the technology you are looking for? A tough decision especially if you are a system tuner on a budget. While we here at Ninjalane try not to put to much emphasis on cost we can appreciate a product offering that can deliver amazing performance while keeping overall costs down.

In this review we will be looking at a high-end motherboard from the DFI "Dark" series the LanPartyDK X38 T2R. This is a full ATX motherboard based on the Intel X38 chipset and is designed to deliver a very high C/P margin (marketing speak for cheap and good)
The X38 chipset is very similar to the P35 in terms of features however does have a few key things that set it apart. The biggest difference is support for PCI Express 2.0 and 2 full X16 PCIe video slots. Some of the lesser known differences would be support for ECC memory and the 82X38 MCH.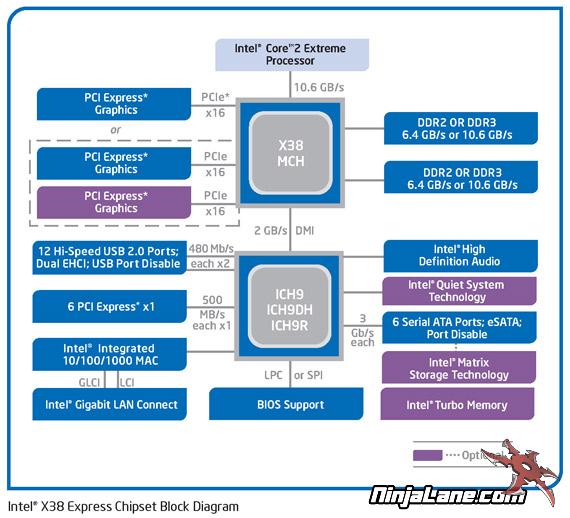 Motherboard core logic (or chipset) is really what defines many of the features you find on today's motherboards. Mobo makers are given a choice in what features they wish to expose but oftentimes enable everything out of the box. The company can then add their own IP to help personalize the final product line. DFI has a long track record of favoring the enthusiast and tailors their boards for overclocking and system tweaking.