After careful consideration I have decided to transfer all hardware review activities to a new domain. I purchased Hardwareasylum.com in 2012 and have been working hard to build a new and improved Ninjalane on that domain. If you are reading this you have reached one of the archived articles, news, projects and/or reviews that were left behind during the site migration.
Please update your bookmarks and be sure to visit the new and improved Ninjalane at Hardwareasylum.com
Thermaltake TR2 RX 750Watt Power Supply Review
Thermaltake TR2 RX 750Watt Power Supply Review
Author:

Will West
Published:
Thursday, March 04, 2010

Specifications
The TT TR2 RX 750W is a single rail unit that is able to hold 672Watts on the 12volt rail alone. With this PSU you do not have to figure out what rail feeds what PCI-Express connectors or make sure you're not overloading the unit. This is a great feature that seems to be coming back among the 750Watt designs.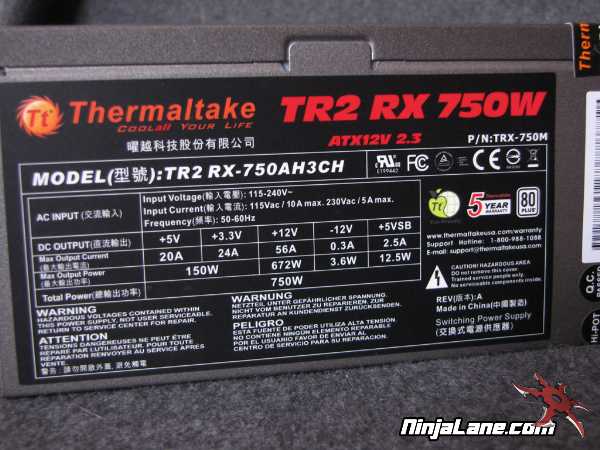 The specification label is much like the nutrition information on the side of a cereal box and will tell you most everything you need to know. Here we can see the various power ratings and warnings including how the power is distributed. You will also find the proudly displayed 5 year warranty and 80 Plus certification. Along with the 80% efficiency rating the TR2 TX 750W comes with an Active PFC designed to regulate power usage and help save energy when power demand is low.

Some of the other safety features include:
- Over Voltage Protection
- Over Current Protection
- Over Load Protection
- Over Temperature Protection
- Under Voltage Protection
- Short Circuit Protection
Testing
Our testing is methodology not comprehensive; we don't have the required equipment to test power ripples and fluctuation so that will not be included. However, this will not stop us from showing you the unit and testing how well it can power a beefy overclocked computer system, while keeping noise low and heat output to a minimum. The 80 Plus certification and 5 year warranty should be enough confidence for most users, regardless of whatever abuse we intend to dish out.

Below is our testing setup, to ensure a good loading pattern we decided to play several hours of Crysis Warhead and monitor the noise and heat output for anything out of the ordinary.

Test System
Intel Core i5 750 @ 4.2Ghz
Corsair H50 Watercooler
EVGA P55 FTW
G.Skill PC3-12800 DDR3 1600 RAM
Sapphire Radeon HD 5870
WD 640GB 7200RPM Hard Drive
LG DVD-ROM
2 x 120mm fans
2 x 240mm fans