After careful consideration I have decided to transfer all hardware review activities to a new domain. I purchased Hardwareasylum.com in 2012 and have been working hard to build a new and improved Ninjalane on that domain. If you are reading this you have reached one of the archived articles, news, projects and/or reviews that were left behind during the site migration.
Please update your bookmarks and be sure to visit the new and improved Ninjalane at Hardwareasylum.com
Thermaltake TR2 RX 750Watt Power Supply Review
Thermaltake TR2 RX 750Watt Power Supply Review
Author:

Will West
Published:
Thursday, March 04, 2010

Conclusion
Well, testing a PSU using an overclocked quad-core processor and a seriously powerful Radeon HD 5870 is something to brag about, and the Thermaltake TR2 RX 750W handled everything great. Heat output was about what we had expected; the exhaust air was warm, but not blistering hot. This alone is a good sign meaning that power is being used instead of becoming excess heat.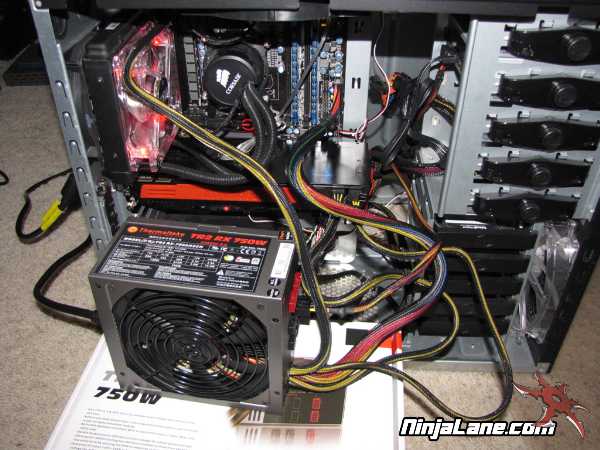 When looking for a power supply it is always a good idea to buy more than what you need. In a typical desktop or gaming system 550 to 600 watts may be more than enough power. However as system load extends beyond the 80% of capacity the total power efficiency begins to decrease, excess heat is produced, and overall stability becomes questionable.

Picking a PSU that is slightly larger than what you need will alleviate this and ensure your system to run cool and quiet. The Thermaltake TR2 RX 750W is a good match in these situations and provides a little extra for when you plan to upgrade down the road.

Good Things
Single Rail Design
5 Year Warranty
80 Plus Certified
Modular PSU
Multi GPU Support
Able to handle a beefy system with ease
Bad Things
No frills design