After careful consideration I have decided to transfer all hardware review activities to a new domain. I purchased Hardwareasylum.com in 2012 and have been working hard to build a new and improved Ninjalane on that domain. If you are reading this you have reached one of the archived articles, news, projects and/or reviews that were left behind during the site migration.
Please update your bookmarks and be sure to visit the new and improved Ninjalane at Hardwareasylum.com
Thermaltake BlacX 5G HDD Docking Station Review
Author:

Dennis Garcia
Published:
Monday, October 25, 2010

Benchmarks
Some of you may be wondering if upgrading to the latest BlacX is really worthwhile so we have prepared a few benchmarks to help describe the benefits of not only USB3, but how your HDD can actually determine overall performance.

HD Tach 3
HDTach is an aging drive benchmark and doesn't run well on Windows 7 but still does a great job at illustrating how fast, or slow, our hard drives really are. There are a couple things to make note of when viewing the following screenshots. Watch the numbers along the y-axis as they represent throughput and the speed we are after.

300GB Western Digital VelociRaptor SATA3 drive hooked into a USB3 port.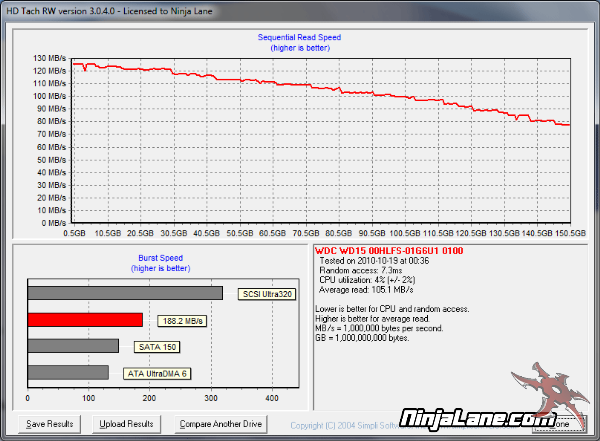 36GB Western Digial Raptor SATA drive hooked into the same USB3 port.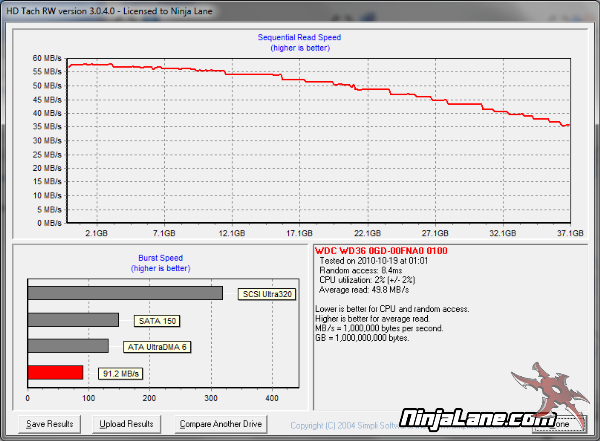 300GB VelociRaptor drive hooked into an older USB2 port.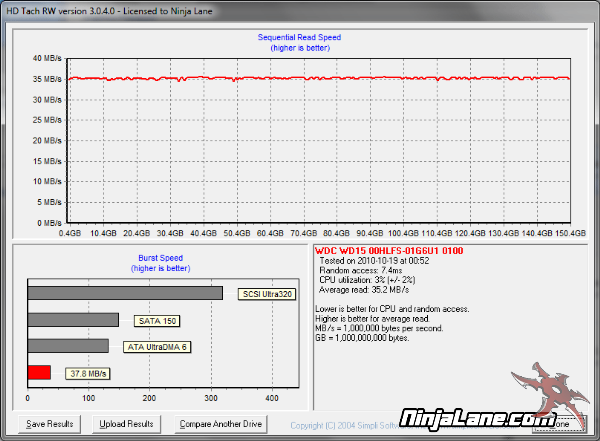 Can you spot the differences??

Of course USB3 / SATA3 will be the fastest combo, however that speed is not guaranteed if your SATA drive cannot supply the data.