After careful consideration I have decided to transfer all hardware review activities to a new domain. I purchased Hardwareasylum.com in 2012 and have been working hard to build a new and improved Ninjalane on that domain. If you are reading this you have reached one of the archived articles, news, projects and/or reviews that were left behind during the site migration.
Please update your bookmarks and be sure to visit the new and improved Ninjalane at Hardwareasylum.com
EVGA GTX 460 SuperClocked 1GB Video Card Review
Author:

Will West
Published:
Thursday, August 05, 2010

Introduction
The Fermi architecture (GF100) that created the famed GTX480 was designed to be extremely modular so it can be adapted to different markets and reconfigured to create new and more powerful products. The first GF100 chip was powerful but lacked the power efficiency that many of us would expect from a GPU.

With the flagship product released internal developments were turned to a reworked Fermi based GPU designed to address the issues with the initial release and was codenamed GF104. The new GF104 is similar to the GF100 but on a much smaller scale, it requires considerably less power, enjoys a reduction in overall heat temperature, and is cheaper to produce.

In this review we will be looking at the new EVGA GTX460 1GB SC video card using the new GF104. This is a factory overclocked card designed to provide better overall performance without the worry associated with warranty damage related to overclocking. The review will cover overall performance of the GTX460 and how it stacks up against cards from the previous generation.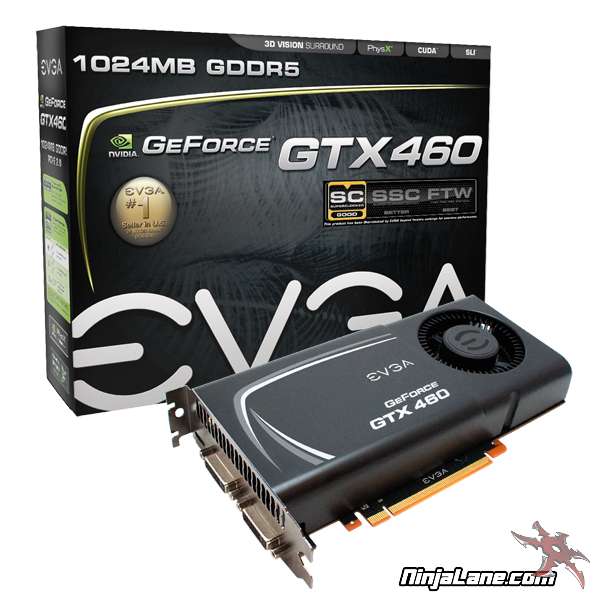 Card Features and Specifications
Fabrication Process: 40nm
Core Clock: 763MHz (std 675MHz)
Shader Clock: 1526MHz (std 1350)
Stream Processors: 336 units
ROP Units: 32
Texture Filtering Units: 56
Memory Interface: 256-bit
Memory Amount/Type: 1GB/GDDR5 Memory
Memory Clock: 950MHz (3800MHz effective)
Memory Bandwidth: 121.6 GB/s
DirectX Compliance: 11
Connection: 16x PCI Express 2.0
Form Factor: Dual Slot
Multi-GPU Support: SLI
Part Number: 01G-P3-1373-AR
Warranty: Lifetime (within a 30 registration period)