After careful consideration and much regret I have decided to transfer all hardware review activities to a new domain. I purchased Hardwareasylum.com in 2012 and have been working hard to build a new and improved Ninjalane on that domain. If you are reading this you have reached one of the archived articles, news, projects and reviews that were left behind during the site migration.
Please update your bookmarks and be sure to visit the new and improved Ninjalane at Hardwareasylum.com
reviews
First Look at the Gigabyte Radeon HD 7770
Author:

Brian Giacoletti



Published:
Wednesday, February 15, 2012

Discuss in the Forums
Introduction
Well look at this, it's a new year and we already have a new video card to preview to get all of us drooling for what is to come this year on the graphics frontier. Coming to market with what Gigabyte claims to be the first 28nm GPU in the world, and being released at a store near you today is the Gigabyte AMD Radeon HD 7770 Graphics Card.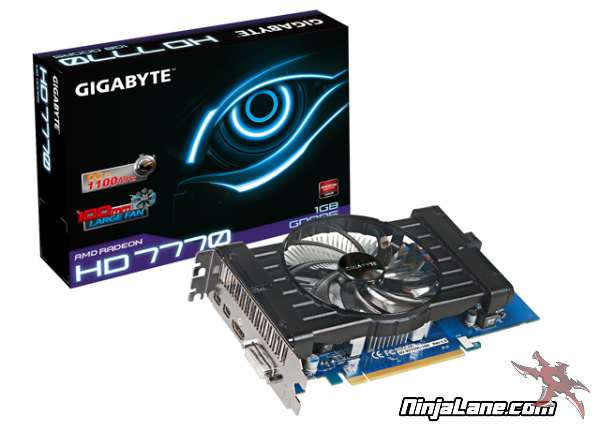 Boasting a full set of new bells and whistles, Gigabyte is trying to grab our attention with features such as a stock factory overclock at 1100 Mhz on the core along with 1 GB of DDR5 memory at a stock 4500 Mhz . On top of that Gigabyte says there is plenty more headroom for some serious overclocking. But, I am going to leave the overclocking claims to when we here at Ninja Lane get our grubby little hands on one and put it through its paces.

Not only are the core and memory clocks higher than the previous generation but so is the cooling. The Gigabyte AMD Radeon HD 7770 Graphics Card is sporting a rather large 100 MM cooling fan along with an aluminum heat sink to help keep the Gigabyte AMD Radeon HD 7770 Graphics Card cool during those long, high resolution gaming sessions. Because we all know that anything less than 1920x1080 is just a waste of good in game graphics.

Along with the new there is some of what we have come to expect with the Radeon HD series of video cards. The Gigabyte AMD Radeon HD 7770 Graphics Card is DirectX 11and Open GL 4.2 compliant, features Shader Model 5.0 , and it connects straight to you motherboard using a PCI Express 3.0 x16 connector giving up to 5 GB per second of transfer.

As far as connectors go the Gigabyte AMD Radeon HD 7770 Graphics Card has just about any and all connections that you would need. Do you connect via DisplayPort? Yep, there are two Mini DisplayPort connectors, how about HDMI? It's there, and it's gold plated. Want to go with the standard DVI connector, the Gigabyte AMD Radeon HD 7770 Graphics Card has a dual link DVI connector too.

I can't wait to get my hands on one of these to see if the Gigabyte AMD Radeon HD 7770 Graphics Card will be a true contender in the ongoing graphics wars.
Questions or Comments?
If you have Questions or Comments about this article, please stop by
our forums
and let your voice be heard.