After careful consideration I have decided to transfer all hardware review activities to a new domain. I purchased Hardwareasylum.com in 2012 and have been working hard to build a new and improved Ninjalane on that domain. If you are reading this you have reached one of the archived articles, news, projects and/or reviews that were left behind during the site migration.
Please update your bookmarks and be sure to visit the new and improved Ninjalane at Hardwareasylum.com
MSI Radeon HD 4890 1GB OC Graphic Card Review
Author:

William West
Published:
Thursday, May 07, 2009

F.E.A.R. 2
"Don't Fear the Reaper", but FEAR Alma for she is back. FEAR 2 take place a few minutes right after the first one left off after the nuclear explosion. This time the player is a different person on a different team working through the messed up world of a telepathic psycho killer. This is one of the best survival horror type games to ever hit the PC.
Going from the beginning of the game and playing through with the setting all turned up to maximum. Anti-Aliasing was turned up to 4x and Anisotropic was turned up to 16x for a great overall quality gaming experience.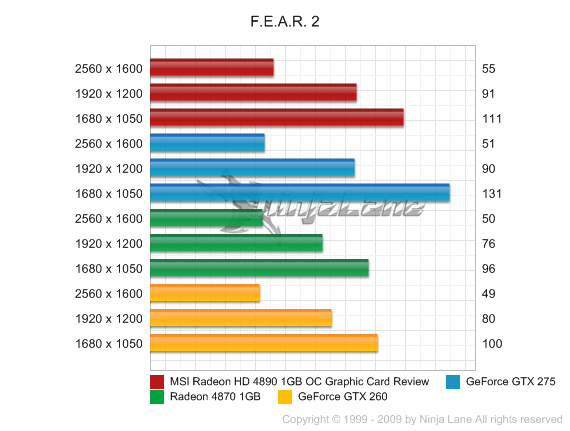 FEAR 2 is still a very new game with incredible graphics, but is still somewhat easy on the modern video card and finally the MSI Radeon HD 4890 1GB OC turns the tables on our reference cards by posting some better numbers, if only at the higher resolutions.