After careful consideration I have decided to transfer all hardware review activities to a new domain. I purchased Hardwareasylum.com in 2012 and have been working hard to build a new and improved Ninjalane on that domain. If you are reading this you have reached one of the archived articles, news, projects and/or reviews that were left behind during the site migration.
Please update your bookmarks and be sure to visit the new and improved Ninjalane at Hardwareasylum.com
NVidia GeForce GTS 450 Video Card Review
Author:

Will West
Published:
Monday, September 13, 2010

Introduction
By now many of you have heard of NVidia's latest flagship GPU based on Fermi architecture. Of course they started with the ultra high end called the GTX 480 and GTX 470. Both were excellent cards but rather expensive for the average user. A few months later the GTX 465 and GTX 460 were released as a step down product designed to fill in the gap between older 200 series cards and the ultra-highend. However there was still a sizeable price gap between a comparable ATI card and the GTX 460 that alienated the majority of gamers that are typically a few hardware generations behind.

In this review, we will be looking at a new gpu from nvidia which is targeted directly at the mainstream gamer. When we define "mainstream gamer," we are talking about the type of gamer who isn't sitting on a pile of money, the type of gamer who embraces overclocking to extend the life of their system, the type of gamer that might be you.

When doing research for this GPU NVidia engineers studied the data collected by Steam's annual hardware survey and set out to tailor design a card to complement the majority of gamers, their systems, and average gaming resolution. The results of that study produced the GF106 or GTS 450. This card is designed to fill the gap left by the GTS 250 by upgrading gamers to DirectX 11 performance at a target resolution of 1680 x 1050 and at a price comparable to the HD5750.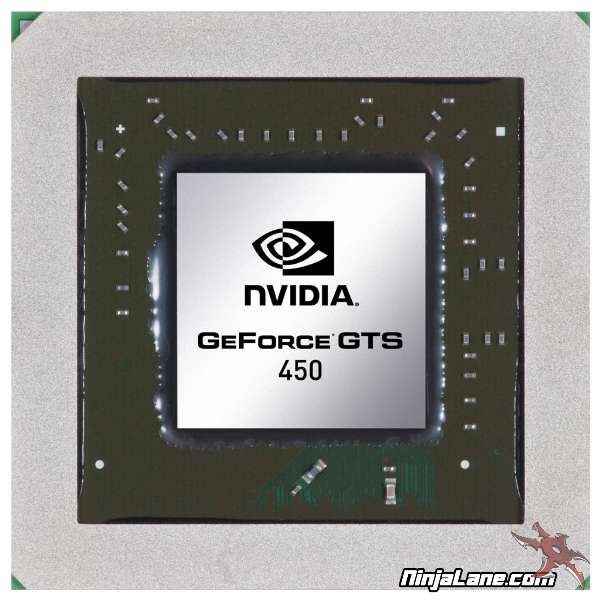 Specifications
Fabrication Process: 40nm
Core Clock: 783MHz
Shader Clock: 1566MHz
Stream Processors: 192 units
ROP Units: 16
Texture Filtering Units: 32
Memory Interface: 128-bit
Memory Amount/Type: 1GB/GDDR5 Memory
Memory Clock: 902MHz (3600MHz effective)
Memory Bandwidth: 57.7 GB/s
DirectX Compliance: 11
Connection: 16x PCI Express 2.0
Form Factor: Dual Slot
Multi-GPU Support: SLI