After careful consideration I have decided to transfer all hardware review activities to a new domain. I purchased Hardwareasylum.com in 2012 and have been working hard to build a new and improved Ninjalane on that domain. If you are reading this you have reached one of the archived articles, news, projects and/or reviews that were left behind during the site migration.
Please update your bookmarks and be sure to visit the new and improved Ninjalane at Hardwareasylum.com
GeForce GTX 275 Video Card Review
Author:

William West
Published:
Thursday, April 02, 2009

Dawn of War 2
Dawn of War 2 is an RTS game based around the very popular Warhammer 40K series. With controlling units to be deployed and hold positions against enemy forces. The game has great animations for battle that no other RTS has been able to produce. Then adding in an environment that changes as the battle scars the terrain, and the carnage pursues. Dawn of War 2 is one of the best RTS to date.
All settings in Dawn of War 2 have been placed at the maximum in the game for all testing purposes. We played a PVP match with 6 players all together in a full all out frame busting fire fight.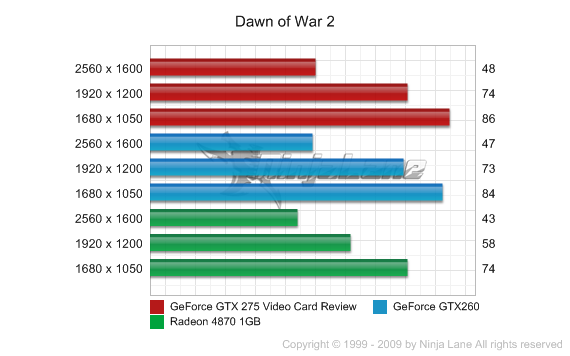 Being one of the first RTS games in our review on video cards made for some mixed results. The GeForce cards both run the same for frame rates. Then pull in the Radeon 4870 into the fight, and we get to see it take a serious beating. Well until the resolutions kick up to 2560 x 1600. Then the playing field starts to level off, but the GeForce cards still win.