News
Expanded AMD Ryzen CPU Lineup Along with my Thoughts
Published:
Thursday, February 23, 2017

| Posted By:

Dennis
To be honest, I haven't been following anything AMD Ryzen aside from what I have heard in the grapevine. So far the rumors are extremely positive claiming that the Ryzen CPUs are fast enough to compete with the Intel LGA 2011 and faster than many of the Intel LGA 115x stuff.
Of course with that being said I haven't actually used any of the new AM4 stuff, I wasn't invited to the AMD press event at CES nor was I invited to the launch that happened in San Francisco. I did however see an AM4 motherboard at CES and the socket looked A LOT like an old AMD FM2/FM2+ complete with pins missing in the middle. (Remember the old Socket 754?, similar format and they later released a full pin socket processor with more power.)
At the time of this news posting you can pre-order AMD Ryzen CPUs with the three flagship processors being available. (1800X, 1700X and 1700 They are all 8 core / 16 thread processors and come with 16meg cache and a very attractive price point at less than $500 USD. From a specifications standpoint we have an LGA 2011 killer with a power sipping 95w TDP to boot.
The rest of the line-up is pictured below with the slowest of them clocking in at 3Ghz while the fastest will turbo to 4Ghz. There was a leaked benchmark showing the Ryzen 7 1800X overclocked to 5Ghz on LN2 indicating that there isn't much headroom but, with an unlocked multiplier that opens up a wealth of tweaking options.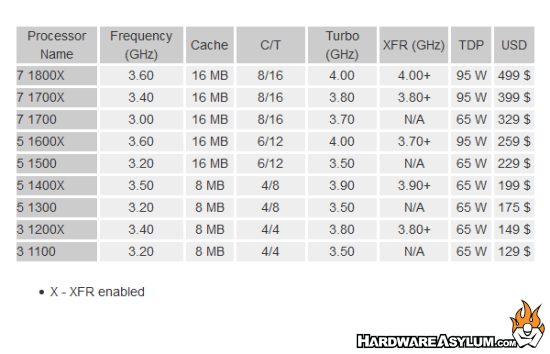 Chart credit to OCaholic
I have written this post with a little cautious optimism.
Reason? Well, I believe that AMD has a great product but many of the performance gains are a little overhyped. For instance, I saw a slide claiming that they achieved a 50% performance increase over previous generation. Well, considering that every CPU is dual threaded you can make that claim because you are splitting the work across two threads. Likewise, we have 8 cores and only 95w TDP. The FM2 based stuff was rather power efficient and if you use that as a base, tweak the power delivery a little and add more cores you can easily achieve those targets. That is simply how things scale but is scaling from an crappy FM2 that nobody wanted to begin with.
Of course some of my skepticism comes from past AMD releases where everything was overhyped and lack luster. We had people going nutz over the launch and it quickly died off. I have no doubt that TechTubers will beat Ryzen to a pulp as they struggle to come up with video ideas. This is fine IMO as the CPU has decent specs and it has gotten plenty of people excited about competition in the CPU space. I just hope it can actually deliver.
comments powered by

Disqus