News
EAK Design Studio MagPower Wireless Charger Power Banks and Gamepads Launch on Indiegogo
Published:
Friday, September 14, 2018

| Posted By:

Dennis
Pioneering company debuts accessories that will optimize smartphones for holding longer charges and enhanced gameplay
San Francisco, California, September 12, 2018 - Smartphone owners frequently struggle with keeping their devices charged in a convenient way, as well as with enjoying enhanced gameplay. A brand-new technology and design offering solutions to these challenges have just launched on Indiegogo.
EAK Design Studio's MagPower N1 and N2 wireless charger power banks offer portable charging that attached to iOS and Android smartphones in such a streamlined way that the user can keep their existing cases. The wireless power banks offer charges that are up to four times faster for Android users and twice as fast for iPhones.
Customers can choose from the 4000mAh and 8000mAh models, which are both available in white and black colors and have the ability to tether charge up to three devices simultaneously.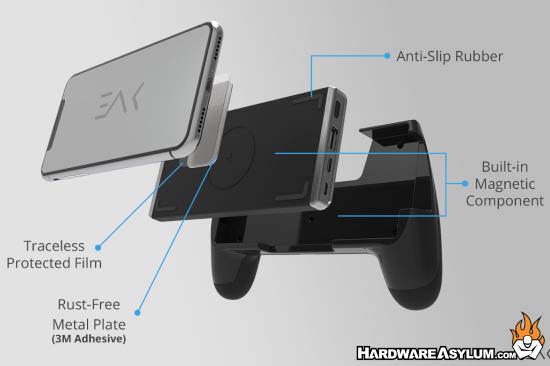 The N2 charger also offers another option that is expected to be embraced by gamers everywhere. This model can be paired with the N2 Gamepad, which transforms the gaming experience by essentially adding a handheld gaming controller to the smartphone.
EAK Design Studio has conducted extensive research and carried out rounds of prototypes to ensure that the final version is the best. Leveraging the latest in Qi wireless charging, Quick Charge 3.0, and Power Delivery 3.0 technology, users can expect an ergonomic design with powerful results.
As the MagPower moves from engineering to pre-production stage, EAK Studio aims to use the Indiegogo campaign to raise $25,000 towards the manufacturing of the MagPower, as well as for raising awareness about the product and achieve the ideal target cost and price for mass production.
Currently, pledges are being accepted with discounts being offered in exchange. EAK is offering special Indiegogo super early bird rates of $36 for the N1; $50 for the N2; and $67 for the N2 and N2 Gamepad bundle. These rates reflect a 30% off discount from the MSRP prices, which will go into effect after the product launch.
Related Web URL: https://www.indiegogo.com/projects/eak-magpower-wi...
comments powered by

Disqus