News
Patriot Announces Massive Black Friday Sales and Cyber Monday Deals
Published:
Monday, November 22, 2021

| Posted By:

Dennis
Limited time only Super Sale on customer favorites
Fremont, California, November 22, 2021 - Premier manufacturer of technology and gaming accessories PATRIOT™ will delight customers this Black Friday and Cyber Monday with generous savings with up to 43% on select items. Super saving deals can be found online on Patriot's official website and with selling partners Amazon and Newegg, with each platform offering different deals.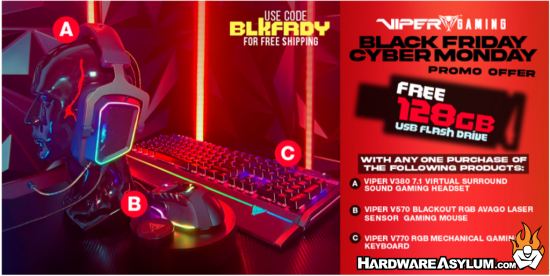 Patriot Official Webstore Deals
The patriot website will have deals on some of its best-rated gaming keyboards, mouses, headsets, and mouse pads. Super savings range from $24.99 for the PATRIOT™ Viper Gaming V330 Closed Back High-Definition Stereo Gaming Headset. The most expensive sale item is the PATRIOT™ Viper V770 Mechanical Gaming Keyboard with Full RGB, Dedicated Media Controls, and Macro-Enabled functionalities at a steal of $89.99. With each sale item purchase, customers will receive a gift of either a 128GB USB, 64GB USB, or a 32GB USB and free delivery with code BLKFRDY. Shop Patriot Black Friday/Cyber Monday
Amazon Deals
The deals continue on Amazon, with significant savings on the gaming storage coming in at the low deal of $179.99 for the superior Viper VP4300 1TB M.2 PCIe Gen4 x 4 Internal Gaming SSD, which is the go-to choice for a PS5 storage upgrade. Another winning discount is the 2TB version for the meager price of $389.99, further increasing your PS5 storage. Shop Patriot Black Friday and Shop Patriot Cyber Monday at Amazon


Newegg Deals
To complete their Black Friday and Cyber Monday limited time super sale, PATRIOT™ products on leading technology e-commerce platform Newegg will also experience significant discounts. Gamers everywhere will have the opportunity to purchase headsets, mouses, keyboards, and the brand's sought-after Burst Elite. Prices range from $18.99 for the V330 Headset and $149.99 for the 1.92TB Burst Elite-Single. The V330 Headset will be on a one-day flash sale on November 23, with the other items on sale from November 17 to December 04, 2021. Other massively discounted items are Viper, Viper Steel, and Viper Elite, costing from $53.99 to $217.99 after using promo codes with discounts of $5.00 to $25.00, respectively. In addition, customers can also snag a Supersonic rage prime 1TB USB for $134.99 after the $5.00 promo code. These deals will run for the limited time of November 22- 30, 2021.
Roger Shinmoto, VP of PATRIOT,
when asked about the massive discounts excitedly, stated, "It has been a tough couple of years as we have all adjusted to living in a pandemic, but despite it all, our customers stay loyal. They never wavered in their support, and we just wanted to express our utmost gratitude."
PATRIOT™ was founded in 1985 and is a leading manufacturer of high-performance, enthusiast memory modules, SSDs, flash storage, gaming peripherals, and mobile accessories. Patriot is headquartered in Fremont, CA, USA, and is committed to technology innovation, customer satisfaction, and providing the best price for performance on the market. Since their inception, PATRIOT™ products have garnered global prominence for their extreme performance, reliability, and innovation.
Shop all things PATRIOT™ official webstore at https://store.patriotmemory.com/
Related Web URL: https://store.patriotmemory.com/
comments powered by

Disqus