News
VIPER Gaming Announces the VIPER VENOM DDR5 Performance Memory Kits
Published:
Thursday, December 9, 2021

| Posted By:

Dennis
This enthusiast-grade DDR5 memory series brings better overclocking performance, frequencies from 4800MHz to 6200MHz, and will be available in Q1 2022.
FREMONT, CALIFORNIA — Dec 9th, 2021 — VIPER™, a trademarked brand of PATRIOT™ and a global leader in performance memory, solid-state drives, and flash storage solutions, is excited to announce the availability of the new VIPER VENOM RGB and non-RGB DDR5 high-performance DRAM modules which will be available in Q1 2022. The VIPER VENOM DDR5 memory modules provide enhanced speeds ranging from 4800MHz to 6200MHz with kit capacities of 16GB to 32GB equipped with the exclusive VENOM heat spreader design with an option for RGB illumination catering to both PC hardware enthusiasts and hardcore gamers.
"The VIPER VENOM DDR5 is our first DDR5 DRAM customized for enthusiasts and hardcore gamers who might be obsessed with aggressive performance and reliability. Our engineering team put exceptional effort into this VENOM DDR5 series to ensure it can have the best compatibility and reliability across Intel®'s latest platforms," said Roger Shinmoto, the VP of Patriot VIPER.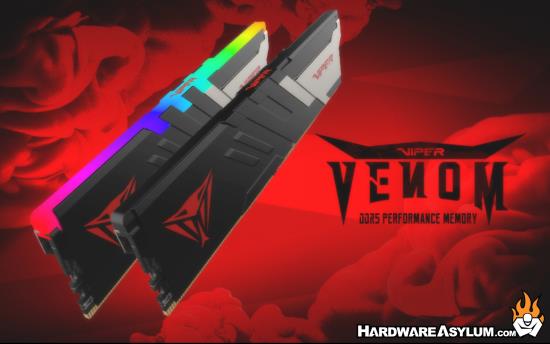 VIPER VENOM RGB DDR5 modules come with the stylish VENOM heatshield design with a new design to combine the LED light bar and the heatshield. The RGB light bar is an entirely new design with updated synchronization software and illumination patterns. The unique architecture of DDR5 has localized voltage adjustments based on a locked/unlocked PMIC (power management integrated circuit) and SPD HUB (serial presence detection), which provides simultaneous monitoring, threshold protection, intelligent voltage control, and power management to achieve more comprehensive voltage control. Furthermore, the on-chip ECC function enables active error correction to improve data integrity and enhance performance and stability. Each module is constructed with a ten-layer PCB to offer excellent signal integrity and unmatched stability with a physical height tailor-made to fit most CPU coolers in the market without interference.

The VIPER VENOM DDR5 Memory Series will be available Q1 2022 in major retailers worldwide with two packages with RGB and Non-RGB models.
Product Specification
| | | | | | | | |
| --- | --- | --- | --- | --- | --- | --- | --- |
| PN | Speed | CL | Voltage | PMIC | Config | RGB | Capacity |
| PVV516G480C36K | 4800 | 36-36-36-68 | 1.1v | Locked PMIC | 1Gx16 | N | 16GB kit |
| PVV532G480C36K | 4800 | 36-36-36-68 | 1.1v | Locked PMIC | 2Gx8/1Gx16(2R) | N | 32GB kit |
| PVVR516G480C36K | 4800 | 36-36-36-68 | 1.1v | Locked PMIC | 1Gx16 | Y | 16GB kit |
| PVVR532G480C36K | 4800 | 36-36-36-68 | 1.1v | Locked PMIC | 2Gx8/1Gx16(2R) | Y | 32GB kit |
| PVV516G520C40K | 5200 | 40-40-40-77 | 1.1v | Locked PMIC | 1Gx16 | N | 16GB kit |
| PVV532G520C40K | 5200 | 40-40-40-77 | 1.1v | Locked PMIC | 2Gx8/1Gx16(2R) | N | 32GB kit |
| PVVR516G520C40K | 5200 | 40-40-40-77 | 1.1v | Locked PMIC | 1Gx16 | Y | 16GB kit |
| PVVR532G520C40K | 5200 | 40-40-40-77 | 1.1v | Locked PMIC | 2Gx8/1Gx16(2R) | Y | 32GB kit |
| PVV516G560C36K | 5600 | 36-36-36-70 | 1.2v | Unlocked PMIC | 1Gx16 | N | 16GB kit |
| PVVR516G560C36K | 5600 | 36-36-36-70 | 1.2v | Unlocked PMIC | 1Gx16 | Y | 32GB kit |
| PVV532G560C36K | 5600 | 36-36-36-70 | 1.2v | Unlocked PMIC | 2Gx8 | N | 16GB kit |
| PVVR532G560C36K | 5600 | 36-36-36-70 | 1.2v | Unlocked PMIC | 2Gx8 | Y | 16GB kit |
| PVV516G620C40K | 6200 | 40-40-40-76 | 1.25v | Unlocked PMIC | 1Gx16 | N | 16GB kit |
| PVVR516G620C40K | 6200 | 40-40-40-76 | 1.25v | Unlocked PMIC | 1Gx16 | Y | 16GB kit |
| PVV532G620C40K | 6200 | 40-40-40-76 | 1.25v | Unlocked PMIC | 2Gx8 | N | 32GB kit |
| PVVR532G620C40K | 6200 | 40-40-40-76 | 1.25v | Unlocked PMIC | 2Gx8 | Y | 32GB kit |
comments powered by

Disqus