News
VIPER GAMING to Showcase Their Newest High-Performance Gaming Products at PAX West 2022
Published:
Tuesday, August 30, 2022

| Posted By:

Dennis
Daily activities include on-site raffles, gaming tournaments, custom-modded gaming PC demos, and exclusive discounts on gaming gears.
FREMONT, CALIFORNIA. August 30th, 2022 - VIPER GAMING is excited to announce that the VIPER team will attend PAX WEST 2022 in Seattle, Washington, one of the largest gaming events in the United States. VIPER GAMING will deliver a remarkable gaming experience for attendees with a series of booth events and activities. In-booth activities include on-site gaming tournaments, custom-modded PC demos, daily raffles, and a PAX WEST-only special sale for select VIPER GAMING peripherals. Furthermore, VIPER GAMING has teamed up with MetaPC and CLX Gaming to showcase exclusive custom-modded PCs featuring VIPER GAMING DDR5 DRAM, storage solutions, and gaming accessories. For those unable to attend, an online giveaway will run from August 22nd to September 5th, giving participants a chance to win VIPER gaming products.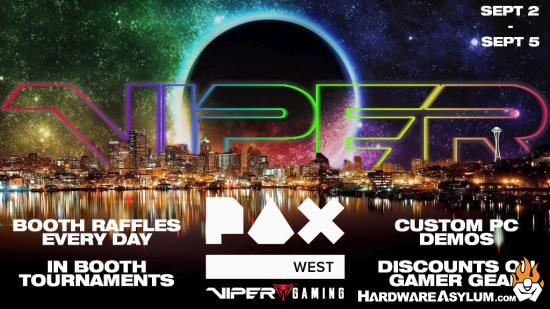 "Our VIPER GAMING team is excited to meet gamers in person during PAX WEST 2022. The inspiration from real-world experience with actual gamers is significant in developing new and exciting VIPER GAMING products. Our in-booth activities are a way to show our gratitude to gamers who have supported VIPER GAMING over the years," said Roger Shinmoto, Vice President at VIPER GAMING.
The VIPER GAMING booth (Booth 119) will feature walk-up gaming tournaments with daily prizes for the winners. Gamers are also welcomed to inspect two custom-modded VIPER GAMING PCs, designed and built by MetaPC and CLX Gaming. The PCs feature VIPER GAMING Venom DDR5 memory, the high-performance Gen 4x4 M.2 SSD, the VIPER VP4300, and VIPER GAMING peripherals. VIPER GAMING products will also be available at a discounted price at the booth during PAX WEST 2022.
On-site visitors who follow VIPER GAMING on social media will receive free booth raffle tickets for a chance to win VIPER GAMING peripherals and RGB SSD prizes. On-site visitors can earn tickets through the following:
Follow two (2) VIPER social media platforms = get 1 Free Ticket
Follow four (4) VIPER social media platforms = get 2 Free Tickets
Follow all five (5) VIPER social media platforms = get 3 Free Tickets
Visitors can earn additional tickets by purchasing in-booth items
Winners will be announced on-site at 5:00 PM PST and notified by phone call and text message. VIPER GAMING will also host an online giveaway; details about giveaways and instructions on how to enter can be found on the contest page at https://gleam.io/amX5s/pax-west-2022-giveaway
PAX WEST will be hosted at the Seattle Convention Center in Seattle, Washington, from September 2nd to 5th, 2022. Visitors can peruse an exhibit hall featuring many developers and publishers. At the same time, panels will hold question and answer sessions with a glimpse into the latest in the gaming industry. Visitors can also enjoy nightly concerts, tournaments, pin trading, various lounges, tabletop free play, and much more. PAX WEST is a true gaming extravaganza, and VIPER GAMING aims to offer gamers no-nonsense, power-packed gaming peripherals.
More VIPER GAMING information can be found at https://viper.patriotmemory.com/
comments powered by

Disqus