News
ASUS and Noctua announce ASUS GeForce RTX 4080 Noctua Edition graphics card
Published:
Tuesday, March 21, 2023

| Posted By:

Dennis
Following the resounding success of the ASUS GeForce RTX 3070 and RTX 3080 Noctua Edition, the Noctua Edition of ASUS' GeForce RTX 4080 is the third graphics card to feature Noctua fans and a heatsink that has been co-engineered by Noctua. By switching from the stock three slim 110mm fans to two of Noctua's award-winning NF-A12x25 PWM 120mm units and to a more elaborate, tailored heatsink with vapour chamber and five instead of two 8mm diameter heatpipes, thermals and acoustics of ASUS' original TUF Gaming GeForce RTX 4080 could be improved significantly for the Noctua Edition, making it the quietest card in its class.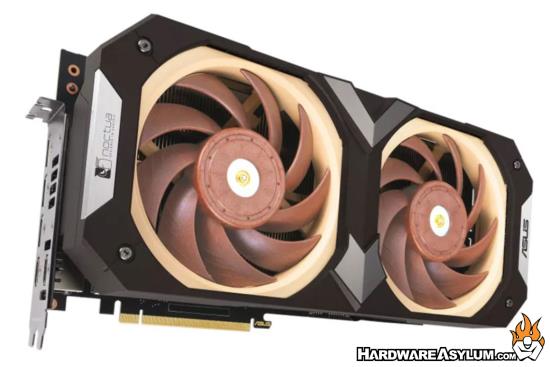 "Building on the success or our previous collaboration, we are delighted to present the ASUS GeForce RTX 4080 Noctua Edition. Once again, we have combined our expertise with Noctua's mastery of low-noise cooling to create a graphics card that offers an unparalleled experience without compromising on noise levels, reflecting the strength and innovation of our collaboration." said Kent Chien (Corporate Vice President and General Manager of the ASUS Multimedia Business Unit).
"The first two Noctua Edition graphics cards were a resounding success, so we're proud to continue our partnership with ASUS", says Roland Mossig (Noctua CEO), "Like with the previous Noctua Edition cards, we've closely cooperated with ASUS to create the quietest card in its class, bringing our signature low noise levels to the GeForce RTX 4080 series."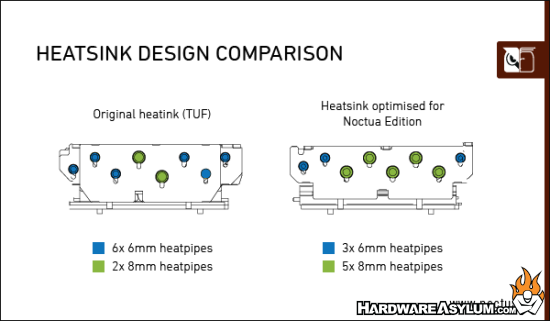 While the heatsinks of the RTX 3070 and RTX 3080 Noctua Edition have already been tailored in aspects such as size and heatpipe layout in order to make the most out of the Noctua NF-A12x25 fans' superior aerodynamic performance, the heatsink of the RTX 4080 Noctua Edition has been re-designed from the ground up to achieve maximum thermal efficiency: By adding a vapour chamber and using its superior heat-spreading capabilities to transfer the thermal energy to five instead of two 8mm heatpipes (plus three instead of six 6mm ones), the Noctua Edition provides significantly better cooling performance than the original TUF Gaming GeForce RTX 4080. This, in return, enables it to operate with slower fan speeds and, combined with the class-leading efficiency of the NF-A12x25 fans, to run quieter than any other air-cooled card in its class.
Related Web URL: https://noctua.at/en/asus-geforce-rtx-4080-noctua-...