Published: Friday, July 05, 2013 - By: Dennis
News Source: Ninjalane
There is a book of a quote to follow this one sentence about the review.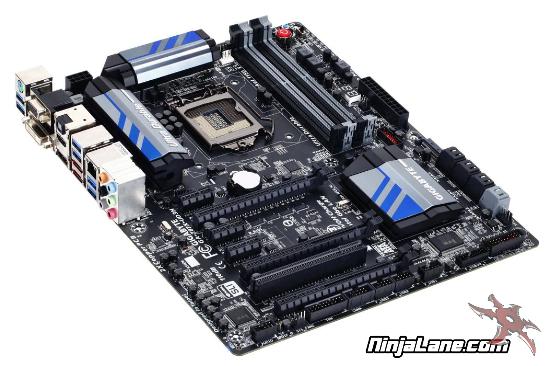 The Gigabyte Z87X-UD3H is outfitted with impressive high-end features at a mainstream price. The Gigabyte Z87X-UD3H utilizes Ultra Durable 5 Plus technology, including the use of 10K solid Japanese capacitors, 2x Copper PCB, gold plated CPU brushes, ESD protection on USB and Ethernet ports with one fuse per port design, as well as International Rectifier PWM controllers and PowIRstage ICs. Unlike other mainstream Z87 mainboards, the Gigabyte Z87X-UD3H has a total of ten USB 3.0 ports for unprecedented connective flexibility and also implements On/Off Charge 2 technology for rapid mobile device charging. Users who want to tune their system performance further will find the quick onboard buttons handy, including voltage read-out points, digital debug display, OC PEG, clear CMOS button, dual BIOS switch, as well as onboard power and reset buttons.
I sometimes wonder why there is a UD4H version of this motherboard, The included features are often very similar and performance can be called "the same". Of course after much debate, drinking and a good nights sleep I have come to the following conclusion.
Because.
Yes, Much like Mr. Torgue's question about "Explosions?" I have determined that UD3H and UD4H exist because they must. One is more beefy for overclocking while the other is more cost efficient.