After careful consideration I have decided to transfer all hardware review activities to a new domain. I purchased Hardwareasylum.com in 2012 and have been working hard to build a new and improved Ninjalane on that domain. If you are reading this you have reached one of the archived articles, news, projects and/or reviews that were left behind during the site migration.
Please update your bookmarks and be sure to visit the new and improved Ninjalane at Hardwareasylum.com
Case cutting mod for better cooling
Author:

Dennis Garcia
Published:
Wednesday, June 28, 2000

Overview
A few hobbies I enjoy are computers and computer hardware. Needless to say over the years I have found that building a computer from scratch not only allows for endless tweaking but also allows me to pick the best components for the application and save a pretty penny to boot. The computer in this project is one I built as a workstation for running professional applications such as 3D Studio MAX, and AutoCAD. The computer is a Dual Processor Pentium 3 450 with 256megs of ram on a Tyan Tiger 100. 2 Maxtor 10.2 7200rpm HDD striped together with a fastTrack66 supply the bandwidth for A/V editing without the cost of SCSI. After building the computer I noticed the amount of heat that this beast produced and decided the case needed some alterations.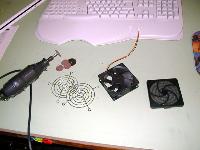 Here are some of the parts that will be used. They include 2 80mm Evercool fans (only one is pictured), fan grills, fan filter assembily, Dremel tool and an assortment of cut-off wheels.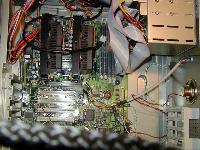 This is a shot inside the case. Here you can see the area I am trying to vent and what is causing some of the heat.
In this photo you can see the Global Win P328H heatsinks that I choose for this computer. The heatsinks do a good job of keeping the processors cool but unless you can get the heated air out they don't do a bit of good.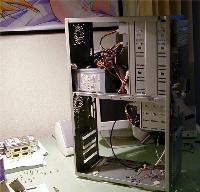 The inside of the case with all the components removed. It is very important to remove all electronic equipment when preforming case modifications. The small metal pieces can cause shorts and destroy your equipment. You can see I still haven't removed the power supply. In this picture and the pictures below you will see the stock placement for fans. Since the case mfg. does not expect everybody to install additional fans they cut the cost of custom fan grills design what you see here. Unfortuanaly these provisions do not flow very well when additional fans are installed.