After careful consideration I have decided to transfer all hardware review activities to a new domain. I purchased Hardwareasylum.com in 2012 and have been working hard to build a new and improved Ninjalane on that domain. If you are reading this you have reached one of the archived articles, news, projects and/or reviews that were left behind during the site migration.
Please update your bookmarks and be sure to visit the new and improved Ninjalane at Hardwareasylum.com
Case cutting mod for better cooling
Author:

Dennis Garcia
Published:
Wednesday, June 28, 2000

Intake Fan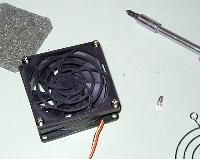 First I assembled my fan assembily. In this pic you can see the filter material and the casing that holds it. You will also see some mounting screws. Most of the sites that have fan mods don't include these, granted they are hard to find but it makes putting this project together tons easier.
On to the fun stuff. The following pictures show how I cut the square for the intake fan. I used a square so the fan fiter could fit though. In doing so I could use the mounting hardware to hold the fan in place. If you look carefully you will see some notches along two of the edges. That is where the fan mount clips to. I used the Dremel tool to make the cuts and tape as cutting guides. 10-15 min later the space was clear and the fan was mounted.