After careful consideration I have decided to transfer all hardware review activities to a new domain. I purchased Hardwareasylum.com in 2012 and have been working hard to build a new and improved Ninjalane on that domain. If you are reading this you have reached one of the archived articles, news, projects and/or reviews that were left behind during the site migration.
Please update your bookmarks and be sure to visit the new and improved Ninjalane at Hardwareasylum.com
Case cutting mod for better cooling
Author:

Dennis Garcia
Published:
Wednesday, June 28, 2000

Exhaust Fan and Assembily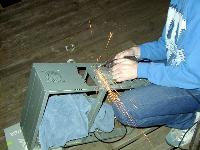 With the intake complete I started on the exhaust. Once again I used the Dremel tool and carefully cut around the raised circle the Mfg. put in the case.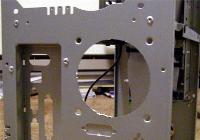 After about another 10-15 min the hole was cut. Since this opening was out in the open I spent the next 15 min smoothing the area and making the opening quite round.